Tarkanian Classic: Mojave King talks visits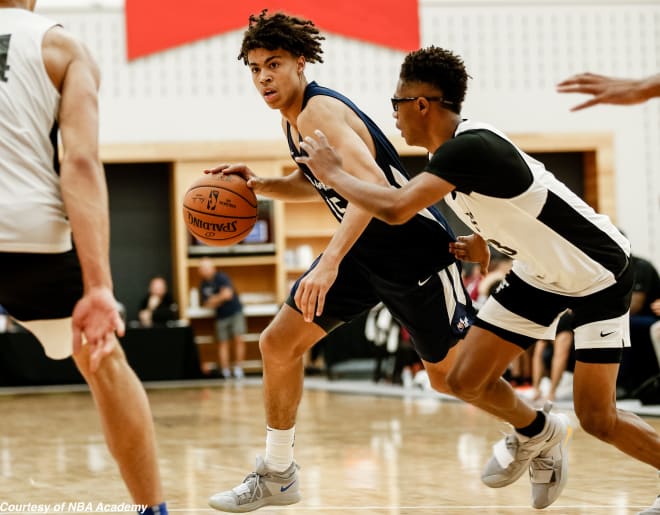 LAS VEGAS -- Four-star guard Mojave King of the NBA's Global Academy sure is an impressive prospect and he's already seen a pair of high majors officially.
A 6-foot-4 junior guard who plays out of the NBA's Global Academy in Canberra, Australia, King has good size, is bouncy at the rim and stretches defenses with his jump shooting.
"I'm pretty good sized guard who is a shooter and likes to push it in transition," King told Rivals.com. "I can play above the rim too and I like playing fast."
King -- who had Arizona head coach Sean Miller and Baylor head coach Scott Drew watcing at the Tarkanian Classic -- said that the NBA Global Academy provides valuable exposure for an International pro

"It's really good," said King of the Global Academy. "We are based in Australia so there's not too many coaches going out there but we get to come on trips like this which gives us a lot of exposure and lets us play in front of coaches and stuff like that."
IN HIS OWN WORDS
King discussed his official visits to Arizona and Baylor.

Arizona: "I've got nothing bad to say about anything there. I really enjoyed my time with the coaches. I had a really good time talking with the players, they have great facilities and they've got a good team this year so hopefully they will do well"
Baylor: "They had some older guys where Arizona had sort of a younger team. Baylor has a lot of seniors so they were a lot bigger. When I first walked in I was like wow, these guys are very big. They have a really good program and are doing very well. You can just tell that coach Drew has a lot of experience and knowledge of the game. He was really breaking down my game."
RIVALS REACTION
King is strong, tough and can go and get a bucket. He's clearly a high level prospect and should be considered at least a top 30-50 type prospect in the junior class. He can make an instant impact and it shouldn't be but a matter of time before his recruitment really takes off.
There had been some speculation that King could either enroll as a member of the class of 2020 or that he may choose to explore professional opportunities when his high school days are done. King said that's all bad info and that he's hoping to take some more visits in February and that college is his plan.
"I think college is pretty much where I'm looking to go," said King. "I don't have a time set for making a decision."