Syracuse lands another Melo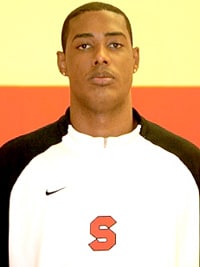 Elite center
Fabricio de Melo
made quite a large splash on the travel team circuit this summer and drew the attention of schools across the country. After agonizing over a college decision, de Melo is now set to attend a school that had great success with a star who had a similar name.
Could de Melo do for Syracuse what Carmelo Anthony did for the Orangemen? The 7-foot, 270-pound de Melo will be planted in the middle of that 2-3 zone with a talented cast of teammates around him.
"The first thing is that he formed a bond with Coach Boeheim," said de Melo's high school coach Adam Ross of Weston (Fla.) Sagemont High School. "He feels it is a system he can go into right away and be successful with an outstanding supporting cast around him."
Ross also noted how impressed de Melo with his visit to the Syracuse campus this past spring. At the same time it was a difficult decision for the Brazilian center.
"It has been a struggle all along," said Ross about the recruiting process. "Louisville, UConn and Florida State were the other schools. Fab decided Syracuse was the perfect fit. He's a very happy fellow right now."
A highly skilled offensive player, de Melo is the No. 5 ranked prospect in the Rivals150.