Swansey is living his dream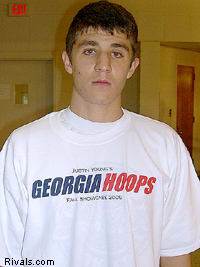 Zac Swansey
is living a dream. The 6-foot-1, 165-pound point guard from Dunwoody (Ga.) High School verbally committed to Georgia on Tuesday night.
"It's been a dream of mine ever since I was a kid to play in the SEC and having a chance to play in my own backyard is a dream come true," he said.
Swansey is a one of the top players in the state of Georgia and he helped pilot Dunwoody to it's second straight state championship last year. He closed the summer out strong on the AAU circuit with the Georgia Stars and saw his recruitment grow this fall.
The Bulldogs made him a priority in September and kept the home grown prospect close to home. The opportunity to play in front of friends and family was too hard to pass up, he said.
"To play in the SEC is one thing but to do it so close to home is crazy," Swansey said.
Dennis Felton made an in-home visit on Monday night and Swansey said he enjoyed the vision that his future head coach had for him.
"They said they were looking for a point guard and that they wanted me to come in there and help lead them to the NCAA tournament," Swansey said. "I know he is going to be the coach that pushes me to be the best I can be. I want to play basketball professionally and I felt like he was the right guy to help me do that.
"I'm ready for that challenge that is waiting for me."