Sunrise Christian loaded with talent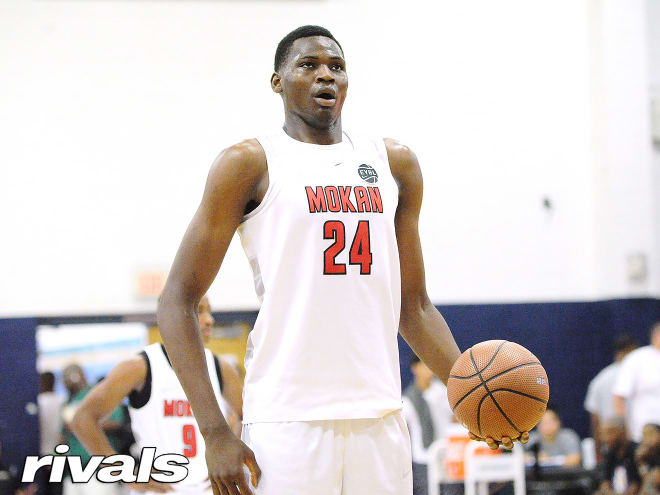 WICHITA, Kan. -- One of the most popular stops for college coaches on the recruiting trail this fall is Wichita (Kan.) Sunrise Christian.
This week, I joined head coaches from Kansas State and Loyola Marymount along with assistants from Iowa State, UCLA, Minnesota and Virginia to watch Sunrise's high school and post-grad programs work out on Thursday afternoon. The talent in head coach Luke Barnwell's stable includes players headed to UCLA, Minnesota, Tulsa, Vanderbilt and Baylor, while a total of six of their players hold spots in either the 2019 or 2020 Rivals150.

DANTE IS THE TOP DOG
As it turns out, elite 2020 big man N'Faly Dante played half of the summer with a broken finger. The thing is he didn't tell anybody and he played through it. During Thursday's workout he played with it. Sometimes he left the tape on, sometimes he ripped it off, at all times he did pretty much what he wanted to do.
Dante is big and strong and capable of bullying anybody he wants. However, the strides he's made with his skill level since I first saw him at the Jordan Brand International game in the spring of 2017 are impressive. As far as I'm concerned, he's proven himself as a top 10 player in 2020.
He'll be taking an unofficial visit to Iowa State next weekend and has Kansas, Kentucky, LSU, Oregon, St. John's, Oklahoma State and plenty of others involved.

HALL ON THE MEND, STARTING VISIT PROCESS
The highest ranked senior at Sunrise, Malik Hall is on the mend from post summer foot surgery and wasn't able to practice. But, he was still very involved bouncing all around the gym and I was impressed by his vocal leadership and the way he stayed in the mix instead of just sitting in the bleachers and watching.
Hall is currently on his first official visit seeing what Purdue has to offer and they are in great shape as he begins his visit tour. He's scheduled to hit Oklahoma next weekend, Michigan State the weekend of October 5th and will finish his visits with a trip to Oregon on the weekend of October 21st.

CROWLEY AND JACKSON ARE BIG SCORES
In combo forward Tray Jackson and combo guard Austin Crowley, Minnesota and Vanderbilt have made nice scores.
Is it reasonable to expect Jackson to step in and immediately replace the production that the Gophers will lose when forward Jordan Murphy graduates? No, that wouldn't be fair. But, Jackson is the same type of athletic, high energy, volume rebounding forward who can really cause mismatches. Though he's a post graduate player, he's not going to turn 18 until later this month and has a big ceiling for improvement.
Speaking of improving, I was pretty taken by the strides that Austin Crowley looks to be making. He's always had skill, been a crafty shot maker and capable of playing some stretches at the point. But, he's added strength and it's amazing what 15 pounds does for his confidence. He's playing through contact more, has improved his pick and roll reads and is on track to play minutes as a freshman in Nashville.

MORE NOTES FROM SUNRISE
.... A native of Mississippi, shooting guard Damerius Wash is going to end up a pretty popular target. Bruce Weber of Kansas State was there to see him along with Mike Dunlap from Loyola Marymount. Wash showed big time athleticism, a nose for getting to the rim and he could be a big time defender. He visited K-State unofficially recently, picked up an offer on Thursday and will be back for an official at the end of the month. He'll see Loyola Marymount next week and is setting something up with Ole Miss for October.
.... I'll be interested to keep an eye on 2021 forward Kenny Pohto. A native of Sweden, he's about 6-foot-9, doesn't play soft and looks to have some offensive skill. He put up big numbers for Sweden's U16 team in FIBA play over the summer. He'll add strength at Sunrise and after an initial look it appears that he's a guy that we'll likely be tracking here at Rivals.com for the next few years.
.... Baylor committed three-star wing Jordan Turner and 2020 four-star guard Elijah Wood both missed practice but will be big pieces. Turner's twin brother Jalyn Turner is a combo forward who can help somebody out and will be a division one player. Three-star big man Gethro Muscadin is thin but has potential as a shot blocker and rebounder while post grad wing Jourdan Smith has good size and athleticism.
.... Finally, a screwball decision from the NCAA forced four-star combo guard Grant Sherfield to sit out July's live period play, but he looked solid in practice. He's a strongly built scorer who can get hot from deep and is capable of finishing through contact. Sherfield is also sneaky explosive and plays with lots of confidence. He's headed to UCLA and had one of his future coaches there to see him.