Summer Jam: Day Three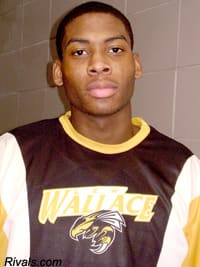 Always known as a big time rebounder, Dawson is beginning to do more than just be a beast on the glass. The 6-foot-5 wing is now expanding his perimeter skills and that was on full display in a playoff game win over the I-Can All-Stars.
Dawson was hitting shots from the outside, showed a much improved handle, and also was making things happen in the mid-range via the pass or the pull-up jumper. Those improvements make Dawson one of the most impressive prospects in the gym. With a complete offensive game to go with his always steady rebounding, he is just a lot to deal with for opponents.
Beyond the improvements skill wise, Dawson also had two of the loudest moments of the day. He threw down a pair of absolutely ridiculous dunks that not only put unfortunate defenders on posters, but also brought a sense of energy to his team. When Dawson gets it going athletically his whole team seems to step it up, and that is what he was able to get done on Wednesday.
Trice has continually gotten bigger and stronger over the past year, and he had it working in a big way during SYF's big win in the playoffs. Trice scored around the rim by using his craftiness to finish. Also he of course hit deep jumpers, and made some nice passes to get teammates easy buckets. Always a streak shooter, Trice has been more consistent than ever, and now it is showing in terms of his production game in and game out.