Strong start for 2006 Wilderness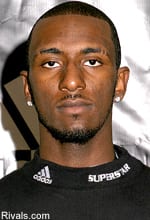 An'Juan Wilderness
, the No. 78 ranked player in the class of 2006, got his season off to a great start with some big numbers and a 20 point win for his Dunwoody (Ga.) High School team. The 6-foot-6, 210-pound small forward also picked up an offer from one of the country's top programs.
"I'm hearing from just about everyone," said Wilderness, who just recently picked up an offer from Louisville. "I don't really have a list. I'm wide open.
"The schools that have offered me are Arkansas, Ohio State, Louisville, Clemson, and there are some I just can't remember."
An ultra-athletic wing player, Wilderness is steadily improving his skills with the ball and is ready to help his team compete for a state championship after falling just short last season.
"I feel very good about our team," he said. "We should make it back to the championship.
"Everything about my game is getting better. My shot has gotten a lot better."
In Dunwoody's opening win of the season, Wilderness totaled 26 points and 14 rebounds. In his first two seasons of high school basketball, he has already scored over 1,100 points and grabbed over 800 rebounds.
Rivals.com will get a good look at Wilderness and his Dunwoody teammates at the Beach Ball Classic in Myrtle Beach, S.C., December 25-30.