Stock up: 2019 LaMelo Ball leads 10 rising halfway through Holiday Tourneys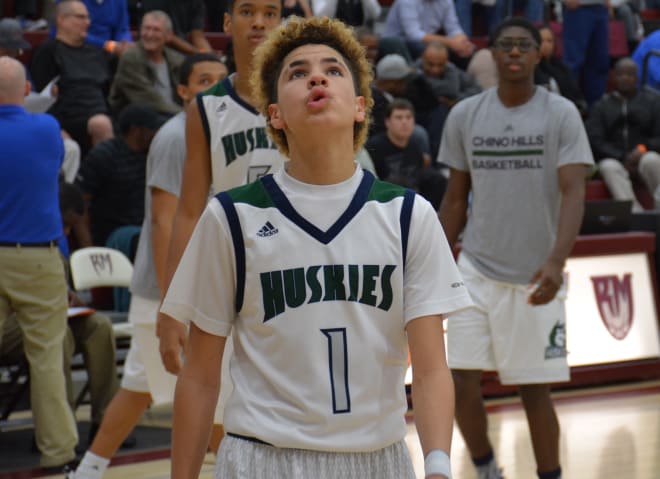 We are halfway through our annual winter tour of Holiday Tournaments from coast to coast. Not surprisingly, several prospects have seen their stock soar. Headlined by UCLA-bound sophomore LaMelo Ball, here are 10 who stand out to us through the first few months of the season.

How he's stood out: Despite a relatively high ranking and previous commitment to Florida, Alexander was somewhat of a mystery man when he signed with Kentucky in the fall. At the Marshall County Hoopfest, Alexander impressed with his combination of size, vision and ability to get where he needs to go with the ball. He's only a consistent jumper away from serious five-star consideration.

Recruitment: Signed with Kentucky during the fall.


How he's stood out: We really wanted to see Ball without older brother and UCLA five-star freshman Lonzo Ball before making too much of an evaluation. In his big brother's absence, Ball has continued to lead Chino Hills to one win after another. His shot selection is frustrating and he has a knack for making the simple play hard, but he is a legitimate talent with high-level vision and he's fun to watch.

Recruitment: Verbally committed to UCLA.


How he's stood out: We elevated Brown to five-star status coming out of the summer based on the thought that he was getting ready to turn the corner from prospect to player. Sure enough, he's made the move to the next level. He is a rim protector, he rebounds and he shows improved athleticism and skill. Brown could make a run at the national top 10.

Recruitment: Brown has offers from Connecticut, Seton Hall, Rutgers, St. John's, Kansas, Georgetown and many others.

How he's stood out: At the Tarkanian Classic, Carlson was a huge revelation. He still needs to get stronger, but his skill, athleticism and ability to make plays on both ends of the floor far exceed his current ranking. He's positioning himself for a run at the national top 50.

Recruitment: Signed with Utah.


How he's stood out: Early in his career, Carr made his reputation as a scorer. Now, he's emerging as one of the top defensive stoppers in high school basketball. His two-way game has put him squarely in the mix for a spot in the final Rivals150 for the class of 2017.

Recruitment: Signed with Pittsburgh.

How he's stood out: During his first senior season -- he's a fifth year prep -- and even before that, Fernando always impressed as a physical specimen. However, while looking like a college player, his skill level appeared to be lacking. At IMG, Fernando has transformed his game and is turning into a legitimate inside/out threat who is now ranked too low.

Recruitment: Signed with Maryland.

How he's stood out: Usually young big men lack skill and polish and we bank on big bodies or early athleticism. Johnson is certainly big and he has good athleticism, but it's his high skill level that blew us away at the Tarkanian Classic. Class of 2019 rankings will be updated in January and he'll enter, at a minimum, as a top 50 prospect.

Recruitment: BYU, Utah State, Southern Utah and Utah offers. Duke, Arizona, Cal, Gonzaga and others have inquired.

How he's stood out: The skilled combo forward played a huge game in front of our Dan McDonald to help knock off a loaded Marietta (Ga.) Wheeler team. Then he went off at the Chick-fil-A Classic. He's a mid range killer, rebounds well and is one is way to becoming a full time small forward.

Recruitment: Signed with Auburn.

How he's stood out: Another who has stood out in front of McDonald, Richardson has transitioned from nice supporting player to first option. He can shoot it from deep, he gets to the rim off the dribble and he's turning into a high-level athlete who is on his way to four-star status.

Recruitment: Auburn, Georgia, Georgia Tech, Arizona State and others have offered.

How he's stood out: We haven't run across a more ferocious or tireless worker around the rim this winter than Williams. He's been relentless on the glass, he has tried to dunk everything possible and he's brought energy on both ends of the floor. He's due for a bit of a bump in the next 2018 update.

Recruitment: Kansas, Florida, Florida State, Miami, LSU, TCU and others have offered.