Sting Factor: Aftermath of Marvin Bagley's decision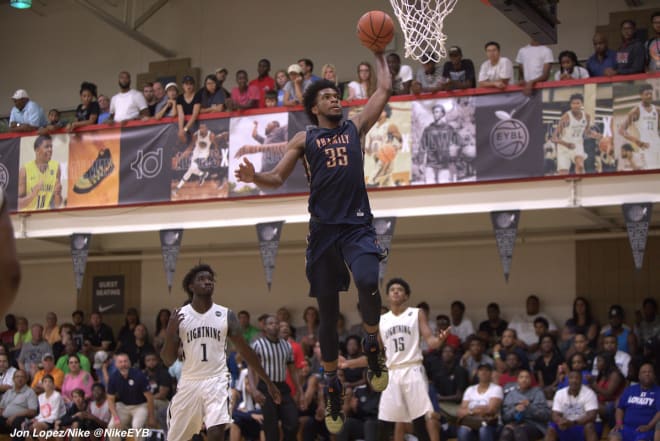 The nation's top player in the class of 2018, Marvin Bagley III, announced on ESPN's SportsCenter on Monday night that he would attend Duke and enroll as a member of the 2017 class.
Even though Bagley's stay in college is likely to be a short one and is happening a year earlier than initially expected, it does impact each of the programs that missed out on him – Arizona, Kansas, Kentucky, UCLA and USC – to varying degrees.

ARIZONA

KANSAS
Sting factor: 2

What's next?: The reality is that Kansas was seen as the least likely destination for Bagley so this one doesn't hurt too badly. It won't hurt at all if the Jayhawks can land 2017 five-star Mitchell Robinson – who visited over the weekend – later this week and find a way to avoid him having to sit out the year after leaving Western Kentucky. Without Robinson or Bagley the Jayhawks have a rotation short on bigs for 2017-18 but they'll deal with it.

The key is a big 2018 class where Kansas is looking to sign as many as six players. Point guards Devon Dotson, Immanuel Quickley and Ayo Dosunmu, combo guard Quentin Grimes, shooting guard Romeo Langford, forward Zion Williamson and bigs Emmitt Williams, Moses Brown and David McCormack are just few of their many high-profile targets.


KENTUCKY
Sting factor: 3

What's next?: Like Kansas, Kentucky wasn't seen as too serious of a contender down the stretch so Bagley isn't much of a "miss" for John Calipari. On top of that, the Wildcats are still going to roll out a frontline that features five former five-star prospects who are sophomores and freshmen. Talent won't be an issue.
As always, the Wildcats are likely to get hard by the NBA Draft so they'll need a big class and as always it will probably be one of the two or three best in the country. They look great for five-star point guard Immanuel Quickley and are also heavily involved with other five-stars Darius Garland, Cameron Reddish, Simisola Shittu, Moses Brown, Quentin Grimes, Zion Williamson and Bol Bol, among others.


UCLA
Sting factor: 7

What's next?: Because UCLA doesn't begin classes until late September, many thought they could have the inside track because it would allow more time for Bagley to get NCAA approval. After losing former five-star Ike Anigbogu to the NBA at least a year earlier than expected, the Bruins could have really used Bagley. They have plenty of size such as Thomas Welsh and incoming Cody Riley, but they are lacking a truly bouncy above-the-rim guy and there aren't any options left out there.

For 2018, four-star combo guard David Singleton is in the fold and five-star big men Bol Bol, Jordan Brown and Moses Brown are on the radar along with the likes of four-star Jaedon LeDee.


USC
Sting factor: 5

What's next?: Had the Trojans landed Bagley, the question would have been from where is his scholarship coming. As it is, Andy Enfield's team has become a trendy – and deserving – pick as a Final Four sleeper in 2017-18 because of its size, depth and overall athleticism. With a budding star in Chimezie Metu and another potential NBA frontliner in Bennie Boatwright, Bagley would have been a luxury.

In 2018 the Trojans already have a great start with top 30 combo forward Taeshon Cherry, four-star power forward J'Raan Brooks and top 50 shooting guard Kevin Porter. Don't be surprised to see them really turn up the heat on Bol Bol.