Starting Five: Zeke Nnaji trims list, big decisions coming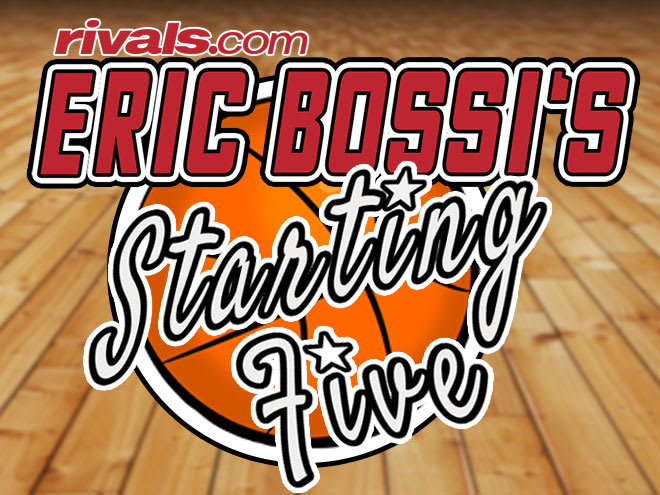 After an extended round of unofficial visits, potential big time forward Zeke Nnaji is down to a final five. Five-star Jalen Lecque decides this week, E.J. Liddell has set a time and more in this week's edition of national basketball analyst Eric Bossi's Starting Five.
1. ZEKE NNAJI CUTS LIST TO FIVE
Top 40 forward Zeke Nnaji spent much of last five weeks or so taking unofficial visits to programs all around the country. After a weekend visit to Kansas, the 6-foot-10 senior from Minnesota has announced that he's down to a top five.
Making the cut for Nnaji were the Jayhawks, Arizona, Baylor, Purdue and UCLA. As it turns out, Nnaji has seen each of those programs unofficially since his senior year started and the expectation is that he will look to set official visits to each of his finalists.
A smooth big man with skill and athleticism, Nnaji still has significant room to grow as a prospect.
Taking an early look at this, I wouldn't be surprised if Arizona and Kansas have a little bit of an edge. However, this one is still a little too close to make any kind of prediction.

2. PREVIEWING LECQUE'S ANNOUNCEMENT
Five-star point guard Jalen Lecque will announce his college decision at 10 am ET on Tuesday.
Perhaps the most athletic guard in the class of 2019, Lecque previously narrowed down his finalists to Louisville, N.C. State, Oregon, TCU, Tennessee, Texas Tech and UCLA. He took September official visits to Raleigh and Knoxville and it is looking like he will end up in one of those cities for college.
With Lecque's decision only a day away, I currently give the edge to Kevin Keatts and the Pack. Tennessee did recently surprise the recruiting world when they won out for five-star guard Josiah James and late word is that they are pushing hard as Lecque's decision looms. But, I am going to stick with N.C. State as his decision.

3. LIDDELL WILL ANNOUNCE MONDAY NIGHT
I don't think I need to go into many details about E.J. Liddell's recruitment. Myself and the Rivals.com team have written a lot about him and being down to Illinois, Missouri and Ohio State.

What matters is that as expected Liddell has set an announcement for 7 p.m. ET on Monday.
I wrote last week that I saw Ohio State as the most likely landing spot for Liddell and on decision day I still feel the same way.

4. KANSAS STATE THOUGHTS
On Sunday night, I wrote about Kansas State doubling up on a big recruiting weekend landing shooting guards Dajuan Gordon and Damerius Wash. I wanted to revisit those two and write a little bit about why they are such good pickups for Bruce Weber and the Wildcats.
First a lot of firepower is going to have to be replaced in Manhattan next season and while you can't expect too much from a freshman, both of these guys could help out early. A Rivals150 prospect, Gordon is a tough and aggressive scorer off the dribble. Wash is a big-time athlete who could challenge for the Rivals150 before his prep school year ends.
What I like most about these two is how they are helping to set up a potentially nasty perimeter defensive rotation a few years down the road. Freshman point guard Shaun Williams is athletic, tough and quick and he's going to be a big-time defender. I also see huge defensive potential in Gordon and Wash. If these guys develop to their full potential, the Wildcats could have one dynamic group of defenders when these guys are upperclassmen.

5. HELP ON THE WAY TO BERKELEY?
Five-star Jalen Lecque won't be the only Wolfeboro (NH) Brewster Academy point guard announcing his decision on Tuesday. Canadian Joel Brown will also announce his college plans.
Brown is a tough and quick ball-handler who can get to the rim and loves to get out and run. He should be a high end college defender and could be a multiple-year starter in the right place.
Wyking Jones and Cal could sure use somebody like that in their 2019 class and as Brown gets ready to decide, it appears that the Bears are in good shape. He still has to go ahead and commit, but if Brown heads to Cal, he could prove to be a very valuable pickup.