Starting Five: All A's so far for Arizona State, Auburn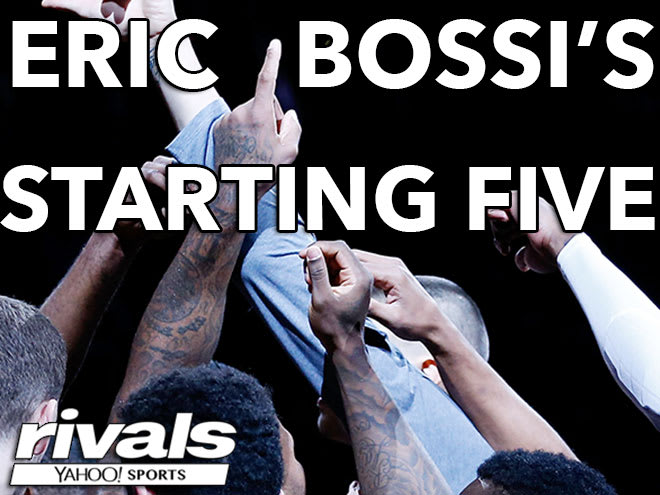 MORE: 2017 Rivals.com team recruiting rankings update
Five-star forward Kris Wilkes is down to five and La Lumiere is looking to further its status as a national high school power. Rivals.com National Analyst Eric Bossi takes a look at those topics, four-star Jamal Cain's visits and big weekends at Arizona State and Auburn in this week's Starting Five.

1. WILKES DOWN TO FIVE
On Sunday, 2017's No. 17 player, Kris Wilkes, announced that he is down to a five programs.
The 6-foot-7 swingman from Indianapolis (Ind.) North Central released a message on Twitter that he is considering Connecticut, Illinois, Indiana, UCLA and Xavier.
Wilkes' father, Greg Wilkes, confirmed to Rivals.com that so far the only official visit that has been set is UCLA for the weekend of Sept. 23. However, Wilkes is expected to set up official visits to all five programs.
Though Wilkes has not publicly named a leader, the Hoosiers have been in the longest, offering him early in his high school career. Xavier wasn't far behind them. UCLA is more of a newcomer, but the fact that the Bruins have secured an official visit bodes well for them. Those three are likely running out front as Wilkes enters the crucial visit portion of his recruitment.

2. LA LUMIERE LOADS UP
Thanks to teams loaded with talent and outstanding results against national competition, La Porte (Ind.) La Lumiere has established itself as one of the premier high school programs in the country. For 2016-17, head coach Shane Heirman may have assembled the most talented frontline in high school basketball.
Already in place heading into this year were five-star small forward Brian Bowen and Illinois commit Jeremiah Tilmon, a five-star center. As if that weren't enough, La Lu has added five-star power forward Jaren Jackson (who took recent unofficial visits to Michigan State and Purdue) and an X-factor in Australian big man Jacob Epperson.
Epperson made his way to the United States over the summer, where he impressed playing with AUSA Hoops. After that, he decided to transfer to La Lumiere for his senior season and things have taken off. According to Heirman, Epperson now has offers from Oklahoma, Texas, TCU, Cincinnati, Illinois, Purdue, Minnesota, Notre Dame, Toledo (where his father played), New Mexico, Utah, West Virginia, Iowa, Wichita State, Colorado and Marquette.
"With the other two established bigs he brings an eagerness and a willingness," said Heirman. "He's very coachable, but he's very gifted and he doesn't even know it. He has very good hands, he pursues the basketball. He's athletic and he's long.
"He plays really well in structure. He can catch it, he can pass it and he can see things that happen. He's pretty skilled as well; he can shoot - he has a little running jump hook. Everything comes down to physicality and getting stronger."
Currently a three-star prospect, Epperson will be in the discussion for the next 2017 Rivals150. He isn't in any hurry to make a decision.
Others to keep an eye on this season at La Lumiere include four-star Michigan-bound shooting guard Jordan Poole, three-star point guard Isaiah Coleman-Lands, 2018 power forward Kevin Zhang, 2019 point guard Tyger Campbell and 2019 shooting guard Paxson Wojcik.
3. FOUR-STAR CAIN SETS TWO VISITS
After drawing offers from Michigan, Florida State, Xavier, Cincinnati, Boston College, Washington State, Georgia and others, four-star small forward Jamal Cain is taking steps with his recruitment.
The athletic wing with size has now set up his first two official visits, to Marquette and Georgia. Cain will first visit Marquette the weekend of Sept. 16 and he will follow it up by checking out Georgia the next weekend.
Cain can still set up more visits, but it wouldn't be a surprise if the Golden Eagles and Bulldogs are his only trips. They appear to be distancing themselves from the field.


4. ARIZONA STATE HOSTS LOADED CAMP
In their first full year on the job, Bobby Hurley and his staff at Arizona State signed the No. 21 recruiting class in the country. In 2017, the Sun Devils are off to a good start having already landed Rivals150 point guard Remy Martin.
On Saturday, the Sun Devils hosted Martin and a plethora of other key targets for their elite camp.
Among those on hand from the class of 2017 was Atlanta-area wing Jordan Usher. A three-star prospect who will debut in the next Rivals150, Usher will be back to Tempe for an official visit in September. The Sun Devils are in a tight race with USC (where he'll visit officially this month) for his services. Others on campus included four-star power forward Alex Reese (has the Sun Devils in his top five with UAB, Alabama, Georgia and Cincinnati), Rivals150 big man Garrison Brooks, four-star wing Kimani Lawrence (visited USC Sunday) and three-star point guard Jordan Goldwire.
Underclassmen on campus included class of 2018 four-star shooting guards David Singleton (visited Arizona Sunday) and Jules Bernard, along with three-star wings Timmy Allen and Bakari Simmons. Class of 2019 visitors included versatile power forward Isaiah Mobley (his 2020 brother Evan also visited), Arizona wing Majok Deng and point guard Jaelen House, the son of Sun Devils legend Eddie House.


5. AUBURN LOOKING TO BUILD ON 2017 MOMENTUM
Last week, Auburn retained its No. 1 spot in the 2017 rankings. Bruce Pearl and his staff are still targeting four-star wing Herb Jones and the previously mentioned Garrison Brooks to add to their haul of Austin Wiley, Davion Mitchell and Chuma Okeke.
At the same time, Pearl and his staff are looking to keep that recruiting momentum rolling into 2018 and 2019, as evidenced by their Sunday elite camp.
While the trio of Wiley, Mitchell and Okeke was on hand, the Tigers also hosted a number of impressive young prospects with big upside. Among those in attendance from 2018 were in state four-star guard Diante Wood and potential Rivals150 guards Will Richardson and Trey Doomes from Georgia. Potential high-level 2019 prospects on campus included in-state shooting guard Kira Lewis, big man Jared Jones and point guard Kyle Sturdivant.