Starting Five: USA Basketball is golden again
Once again, USA Basketball has come up golden at the youth level. In this week's Starting Five national basketball analyst looks at the latest 17U title for the USA, USC's latest addition and some five-star prospects who have cut down their list.

1. USA DOMINATES FIBA U17 WORLDS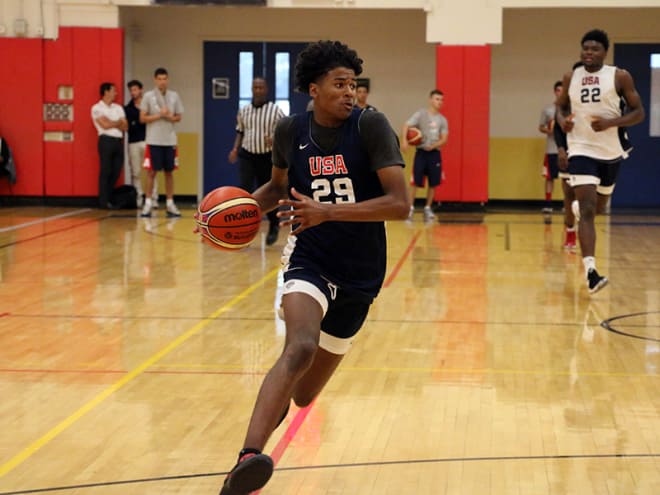 With a lopsided 95-52 win over France in the finals, USA Basketball won FIBA's U17 World Cup in Argentina on Sunday night. Under the direction of Don Showalter, the win moved the United States to 37-0 in the history of the U17 event and they are also undefeated at the U16 level.
So yeah, the United States has totally dominated FIBA competition at the youth level, but the 2018 squad really did it an an unprecedented level. Over the course of seven games, the USA outscored their opponents by a mind numbing 749-373 margin while outrebounding them 370-241 and forcing an astounding 227 turnovers. It could have been worse, too, given that they only shot 26 percent from the three point line during the tournament and also dealt with some injury issues.

Not surprisingly, 2019 and 2020's No. 1 ranked players Vernon Carey Jr. and Jalen Green led the way. The rising senior class's top player, Carey earned All-Tournament honors while Green led the USA in scoring at 15.7 points per game and was named the event MVP.
Oklahoma-bound point guard De'Vion Harmon was impressive all event long while 2019's No. 6 ranked player Isaiah Stewart actually averaged more points and rebounds per game than Carey. At this point, it's not even worth trying to say who played the best because pretty much every member of the team had a dominating stretch at one time or another the it was a thorough team effort that led to such dominance. Other members of the team were 2019 five-stars Isaac Okoro, Wendell Moore and four-star Romeo Weems. Rounding out the squad from the class of 2020 were five-stars Scottie Barnes, Evan Mobley, Jeremy Roach, R.J. Hampton and Jalen Suggs.

2. USC CONTINUES TO CRUSH IT IN 2019
Andy Enfield and USC's top ranked 2019 recruiting class just keeps getting stronger. The latest piece is top 60 wing Max Agbonkpolo.

A skilled and smooth 6-foot-7 small forward from Southern California, Agbonkpolo joins a class that already includes five-star big man Onyeka Okongwu, power forward Isaiah Mobley who ranks No. 27 nationally and No. 73 ranked shooting guard Drake London who also plans to play wide receiver for the Trojans. Okongwu is an athletic shot blocker and rebounder, Mobley a skilled scorer and London a strong and tough wing who defends at a high rate. Agbonkpolo gives the group another scorer and a guy who can handle and create for everybody else from the wing.
Though they have a pretty loaded crew, the Trojans are still recruiting in case of any early departures -- for instance, shooting guard Kevin Porter Jr. is a one-and-done candidate -- and they've cast a wide net. Others still in play include five-star small forward Josh Green, top 35 wing Cassius Stanley and other four-stars like P.J. Fuller, Kyle Sturdivant, Boogie Ellis and many more.

3. FIVE-STAR CARTON CUTS LIST TO THREE
Five-star point guard D.J. Carton is down to a final three and has set his final visit. After recent official visits to Indiana and Michigan, Carton has trimmed his list of finalists from six to those two plus Ohio State.

Michigan and Indiana have been considered strong for a while and after those most talk had centered around either the Buckeyes or nearby Iowa. Now that the Buckeyes are in, they should be getting an official visit as soon as Carton can take one.
At least for the past few weeks, Michigan has been getting the most buzz on this one while Indiana had been just behind them. If you are Ohio State, that he made it through both of those visits without committing and still wants to see you before deciding is a positive. Can the Buckeyes pull this one off? We'll see but Carton's recruitment is looking more and more like a dead heat between the Buckeyes, Hoosiers and Wolverines.

While missing out on Carton is a tough blow for Iowa, he at least did his home state school a favor by cutting them when he did. Instead of following a player he wasn't going to get all throughout July, Fran McCaffery can now move more freely in search of other targets.

4. FIVE-STAR JOSIAH JAMES DOWN TO NINE
Josiah James isn't down to three like D.J. Carton, but the five-star point guard is at least down to a final nine of Clemson, Duke, South Carolina,Tennessee, Arizona, Florida State, Michigan State, Virginia and Kansas.
A priority target for high majors in the Southeast throughout the winter, James has also long been highly ranked at Rivals.com. However, his recruitment didn't start attracting heavy blue blood type interest until more people saw him play during April. So the question is, will he prioritize those early relationships or will he be moved by the shiny new schools involved with his recruitment?
Clemson and South Carolina were thought to be in pretty good shape a few months ago so it's not a surprise to see them. His father played at Michigan State and Duke has gotten a lot of buzz of late as a team to really watch. We'll see how much noise the others can make though it is interesting to note that Bill Self did get to coach James for three weeks or so on USA Basketball's 18U team so there has to be at least some strong mutual interest for Kansas to make the list.
James doesn't play for a shoe circuit team and because of that, some of the head coaches involved may have to go a little bit more off the beaten path than they are used to during the July evaluation periods. Which head coaches prioritize James over these next three weeks should say a lot about the direction his recruitment is headed.

5. DECISION COMING FROM FOUR-STAR WING JUWAN GARY
Four-star wing Juwan Gary should have a decision before the week's end. The long armed and tough small forward from Columbia (S.C.) Gray Collegiate should be choosing between Alabama, Clemson, N.C. State, South Carolina and Virginia Tech within the next few days.
Gary is a gritty, athletic and tough wing who has leadership qualities and a willingness to sit down and lock in on opponents defensively.

Most likely this one is going to come down to South Carolina and Alabama. The Gamecocks are the hometown school and the opportunity to play in front of family is often a big draw. But, Alabama has generated a lot of positive behind-the-scenes talk of late. Which way? We'll see, but again it would be a bit of a surprise if he picked somebody other than one of those two programs.