Starting Five: Top prospects line up visits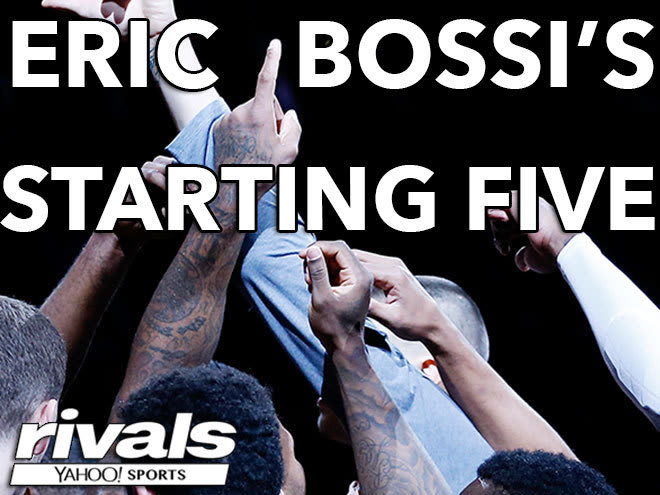 Four-star point guard Daejon Davis has finalized his visits, many of the nation's elite prospects are competing in events this weekend and Illinois is looking to score with a weekend visitor. Rivals.com National Analyst Eric Bossi takes a look at those topics, and more, in a Friday edition of Starting Five.
1. DAVIS LOCKS IN VISITS
At one point, 2017's No. 45 player Daejon Davis was committed to Washington. However, the 6-foot-3 point guard from Seattle Garfield elected to open things up during the summer, and now he's locked in official visits with five programs.
Davis told Rivals.com that he has lined up five straight fall weekends of visits with Oregon (Sept. 23), Stanford (Sept. 30), Gonzaga (Oct. 7), Arizona (Oct. 14) and Washington (Oct. 21).
So far, Davis has listed each team on equal ground, but behind the scenes talk entering the visit process has suggested that Oregon and Arizona may hold a slight leg up on the competition. If the Ducks and Wildcats are indeed ahead of the pack, it is only by the slightest of margins at this point.
For now, the expectation is that Davis will take all five of his visits and he told Rivals that, "How successful I'll be on and off the court," will be most important in making his decision.
2. ELITE 24 AND THE TRIP FEATURE LOADED ROSTERS
This weekend, Under Armour and Nike will each host signature events in impressive locations as they look to close up their summers. Between Under Armour's Elite 24 game, held outdoors in New York City, and Nike's The Trip, taking place in the Bahamas, a total of 37 five-star prospects from the classes of 2017 and 2018 will be hitting the floor.
Under Armour's Elite 24 game will be televised nationally at 7:30 p.m. ET on ESPNU, and 15 of the 24 players on the roster are five-star prospects. Among the most highly touted 2017 players hitting the floor are point guard Trevon Duval (No. 5), small forward Kevin Knox (No. 6), shooting guard Hamidou Diallo (No. 7), combo forward Billy Preston (No. 8) and center Austin Wiley (No. 15). Representing the class of 2018 are small forward Zion Williamson (No. 3), power forward Silvio De Sousa (No. 5), small forward Gerald Liddell (No. 8), small forward Khavon Moore (No. 9) and point guard Javonte Smart (No. 10), among others.
Nike has not released an official roster for The Trip, but among those who are in attendance from the class of 2017 are big man Wendell Carter (No. 3), center Mohamed Bamba (No. 4), center Brandon McCoy (No. 9), utility guard Troy Brown (No. 10), center Mitchell Robinson (No. 11) and combo guard Collin Sexton (No. 12).
3. Illinois hoping for a productive weekend
Illinois is hoping to add a fourth member to its already strong (No. 4 overall) 2017 recruiting class this weekend when Rivals150 guard Trent Frazier takes an official visit.
Though Frazier has a final eight that also includes Rhode Island, VCU, Memphis, Seton Hall, SMU, Kansas State and Georgia, the only other program which has an official visit scheduled with the 6-foot-2 combo guard out of Wellington (Fla.) High is Georgia.
Ranked No. 142 overall in the class of 2017, Frazier is a dangerous scorer from deep who can play either the point or shooting guard position. Headed into his visit to Champaign, the Fighting Illini appear to be the leader for his services, and it would not be a surprise to see him commit during or shortly after his visit with the Illini.
4. Bey has visits lined up
Thanks to a strong July, 6-foot-7 forward Tyler Bey has made an awfully strong argument for inclusion in the post-summer Rivals150. In the meantime, the athletic three-star prospect has a final five with three visits in the works.
Bey already saw finalist Wyoming earlier this month, and he has Colorado set for the weekend of Sept. 8, Arizona State for Sept. 29 and San Diego State for Oct. 21. Currently, Bey does not have a visit set for his other finalist, Fresno State.
Handicapping this one, everybody involved could use his high-level rebounding, open floor athleticism and the ability to defend multiple positions. Colorado appears to be in good position nearing the visit and San Diego State may have led heading into the summer. What will be most interesting to see is if Colorado is able to make enough of an impression to keep Bey from taking any further visits since there is a sizable gap between his visits to Boulder and Tempe.

5. Stanford may have stolen one in Okpala
Stanford recently received a commitment from relatively unknown small forward Kezie Okpala. Credit the Cardinal here, because after reviewing two game films from Okpala's junior season at Anaheim (Calif.) Esperanza, it looks like they did their homework in landing a prospect who looks like he should have been a priority recruit for most of the Pac-12.
Okpala is skinny and will need to add a significant amount of strength over the next few years, but there is a lot to like about his game.
Pushing 6-foot-8, Okpala is an advanced ball-handler for his size. Game film shows that he is quite adept at creating drives to the rims and opportunities for mid-range pull-up jumpers. He looks as if he will turn into a three-point shooter who must be respected. He doesn't look entirely explosive, but he's very elusive with the ball and a good athlete who should benefit greatly from a college weight room.
Okpala hasn't been exposed to a ton of high-level summer ball and it was a growth spurt between his sophomore and junior years of high school that allowed him to really take off. So, he does lack some in experience. However, he looks like a kid that we will need to find a spot for in the 2017 Rivals150, most likely as a four-star prospect.