Starting Five: Top 15 Nazreon Reid down to a pair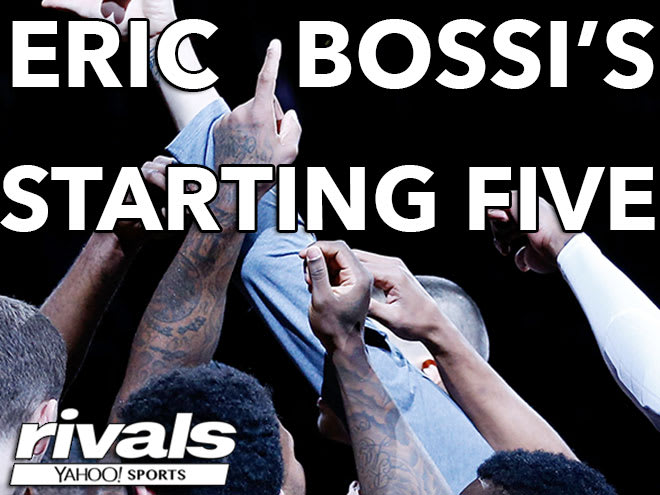 Some of 2018's best players are cutting down their lists. Top 15 big man Nazreon Reid is down to just two while the No. 1 player in the class R.J. Barrett is down to five. National Basketball Analyst Eric Bossi breaks down their recruitments plus more in this week's Starting Five.

1. FIVE-STAR NAZ REID DOWN TO A PAIR
For the past couple of months, LSU has been considered a strong competitor -- if not the outright leader -- for five-star big man Nazreon Reid. So it's no surprise to see the Tigers make Reid's final two and they'll battle it out with Arizona for his services.
Reid has already been to LSU and is expected to visit Arizona early in September and a decision shouldn't be too far behind that. While LSU still looks to be in great shape here and behind the scenes talk still says it is the favorite, it's important to point out that Arizona does hold a commitment from Reid's long time summer teammate and close friend Jahvon Quinerly a five-star point guard.
Reid isn't going to make his commitment based solely off of Quinerly, but him being in the fold for Arizona and Reid still planning to visit there is more than enough reason to give Arizona a strong shot here.

Big and skilled, Reid's got the tools to make a significant impact right off the bat.

2. NO. 1 PLAYER IN 2018 R.J. BARRETT HAS A TOP FIVE
After making the move to 2018 and taking over the top spot in the class, big time wing R.J. Barrett didn't waste much time cutting his list.
The 6-foot-7 southpaw from Canada announced that he's down to Arizona, Duke, Kentucky, Michigan and Oregon. Though he's not yet set his official visits, we expect them to be set within the next few weeks and at this time Barrett looks to be making the moves that would allow him to decide early.
Looking at the list and checking sources for the latest talk from around the campfire, Duke, Kentucky and Oregon appear to be in the best shape at this stage. Barrett himself has not tipped his hand in any way.

3. INDIANA ADDS RIVALS150 POINT GUARD PHINISEE
Say this about Archie Miller -- he's not wasting any time putting together his first full recruiting class at Indiana.
After landing four-star prospects Damezi Anderson and Jerome Hunter during July, Miller and the Hoosiers landed Rivals150 point guard Robert Phinisee on Saturday.
So, what type of player are the Hoosiers getting? Though he's a capable scorer at the rim and from deep -- especially on the high school level -- with sneaky athleticism. Phinisee projects as more of a throwback point guard. He's about running the offense, getting into the lane to make plays, scoring when it's given to him and playing good on the ball defense.
During the spring, Phinisee's play wasn't as good as we had seen hit in the past. However, he picked things up a bit at the end of the summer to finish much stronger than he started.
With Phinisee's commitment, Indiana now holds the No. 6 ranked 2018 recruiting class to this point.


4. GEORGIA TECH LANDS FLOOR STRETCHING SJOLUND
On Sunday night, Georgia Tech and head coach Josh Pastner landed an intriguing prospect in three-star forward Kristian Sjolund.
A native of Norway who plays his high school ball in the Houston area, Sjolund is a tall and lanky four man who can really shoot the ball. During July, he was as good a shooting big man as we saw anywhere in the country. In addition to his shooting ability, he moves well and has a lean frame that should allow him to carry more weight.
Sjolund is a guy that we'll be considering heavily for the Rivals150 update in a few weeks and if he doesn't make the cut this time, he's somebody that we'll be watching closely throughout his senior year. He's got some Ryan Anderson to his game and could end up a steal for Pastner and company if he can get a bit more consistent and add a bit more physicality to his approach.


5. OFFICIAL VISITS SET FOR FOUR-STAR NOAH LOCKE
Four-star combo guard Noah Locke has now locked in all five of his official visits and looks to be well on track to making a decision in time to sign during the Fall.
Beginning later on this week and going through the end of September, Locke will visit (in order) Ohio State, Providence, Xavier, Michigan and Florida.

The two who have been the most active in Locke's recruitment and for the longest time are Providence and Xavier, so they likely hold a slight edge heading into the official visit process.