Starting Five: Summer visits abound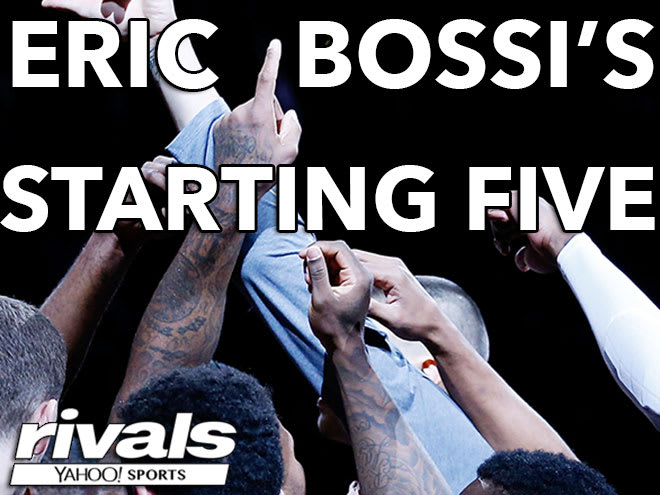 Some high level prospects like five-star point guard Jahvon Quinerly are taking summer official visits. Washington adds another from New York and USA Basketball is headed overseas. Rivals.com National Basketball Analyst Eric Bossi discusses this and more in his weekly Starting Five.
1. FIVE-STAR QUINERLY VISITS THE DESERT
Five-star point guard Jahvon Quinerly is down to a final seven of Arizona, Kansas, Stanford, Seton Hall, Villanova, Virginia and UCLA. The rising senior has gotten the official visit process off to a start after taking an official visit to Arizona over the weekend.
Quinerly hasn't yet taken any other official visits but has seen several other campuses, but the Arizona visit is a good sign that he's looking towards moving ahead with his recruitment. That he's visiting Arizona a little over a week after they landed top 40 point guard Brandon Williams is also a sign that the Wildcats are a legitimate competitor for his services.
Based on latest rumblings, Villanova and Virginia are the other two programs who have gained some separation from the rest of the pack.


2. FOUR-STAR SWIDER PIGGYBACKS VISITS, DECISION COMING?
Also on the visit trail is four-star forward Cole Swider.
Having already visited Syracuse officially, Swider was in Durham to see Duke over the weekend and left his visit with Duke for an official visit at Xavier.
Though his list is longer than those three, we don't expect Swider to take any other visits at this point and we wouldn't be surprised if he has a decision sometime in the near future. Xavier has built a strong relationship with Swider, Syracuse can point to how they used Tyler Lydon and Duke is a program that Swider has admitted was his dream school growing up.
Push comes to shove, this looks like it will end up as a pick between Xavier and Duke. Look for Swider to make a big claim when class of 2018 rankings get updated next week.

3. MORE KEY VISITS TAKING PLACE
Maryland got the first chance to host five-star big man Jalen Smith over the weekend. Villanova is another program that is in a great early position, but we wouldn't be terribly surprised if the Terps held an early lead for Smith's services.

When it comes to productive rising senior forward Brock Cunningham, Oklahoma has put in some heavy lifting. The Sooners offered the skilled 6-foot-6 Cunningham early and have been active in his recruitment for some time. Over the weekend the product of Austin (Texas) Westlake was on campus for his official visit. Look for Cunningham to make his way back into the Rivals150 next week.
St. John's is looking to cash in on more local talent and Luther Muhammad fits the bill. One of the premier perimeter defenders in the class of 2018, the 6-foot-4 shooting guard made the short trip up from New Jersey for the weekend. The Red Storm have prioritized Muhammad and look to be in good position to this point. Notre Dame has made some noise as well and Muhammad had been planning to visit Butler, so Ohio State could make their way into the race after hiring Chris Holtmann.

One other four-star who could be close to making a decision is four-star forward Pete Nance. Down to Ohio State, Northwestern and Michigan, Nance is about to see the Wolverines and Wildcats. Heading into the visits, we'll give Michigan a slight edge and we don't see Nance dragging out his recruitment.

4. WASHINGTON SCORES ANOTHER 2017 SIGNEE
When Mike Hopkins got the Washington job, he didn't have a lot of time or options when it came finding players to fill out his 2017 class.

For the second time since getting the Huskies job, Hopkins called on his Northeast connections landing four-star forward Hameir Wright.
After graduating from Albany Academy, Wright had planned to make his way to Wolfeboro (NH) Brewster Academy for a year of prep school. Instead, Wright committed to Washington after an official visit.
In the Pac-12, we envision Wright playing as a combo forward who can stretch defenses be versatile on both ends of the floor. He joins wing Nahziah Carter and four-star shooting guard Jaylen Nowell in Washington's 2017 class.

5. USA BASKETBALL HEADING TO EGYPT
Coached by John Calipari, USA Basketball's U19 squad was selected last week and will head to Egypt this week for the Fiba basketball World Cup, where they will begin play Saturday. The objective will be to win a gold medal, but there will almost assuredly be some side benefits for Calipari.

Though the majority of the roster is made up of college sophomores and freshmen -- including Kentucky players P.J. Washington and Hamidou Diallo -- a few notable five-star high schoolers did make the roster.
Making the cut were 2018's No. 3 ranked player Romeo Langford, No. 5 Cameron Reddish, No. 15 Immanuel Quickley and No. 31 Louis King.
A shooting guard, Langford is heavily considering Kentucky along with Indiana, Louisville, North Carolina, Duke, Kansas, Vanderbilt and others. Reddish is being pursued by many, but Calipari's Wildcats, along with Duke, are heavily in the mix. Quickley is down Kentucky, Kansas, Maryland and Miami and said prior to leaving for USA Basketball that coaching the team would give Calipari an advantage. As for King, he's said he'll take his time with the process but has always spoken highly of Kentucky.
Bottom line here is that Calipari will coach his team to win. But, the chance to coach players that he is recruiting is huge. It's not like he needs any help when it comes to recruiting, but USA Basketball can help to give him an extra edge this year.