Starting Five: UNC, Mizzou, Stanford among hot topics
North Carolina coach Roy Williams has received his share of adulation and awards over the year, however with another trip to a national championship game, he has risen to a new level. Five-star Kevin Knox has another visit set and much more in this week's Starting Five.

1. WILLIAMS DESERVES TO BE MENTIONED WITH ALL-TIME GREATS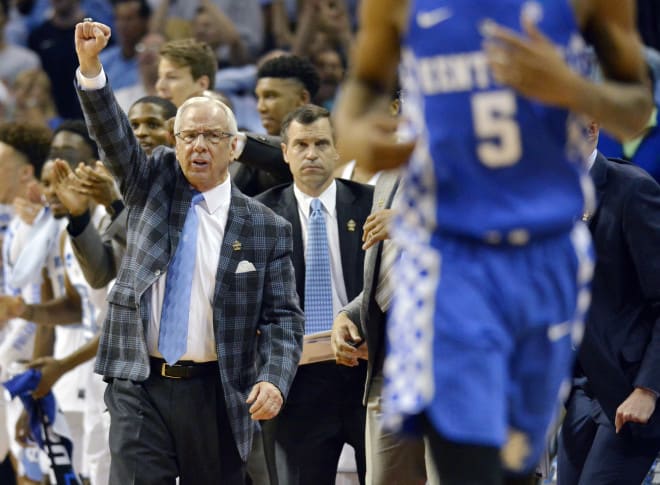 Roy Williams will try to win his third national championship at North Carolina since taking the head coaching job in 2003 tonight when the Tar Heels face Gonzaga. Whether he wins or loses, the time has come for him to be firmly mentioned among the game's all-time great coaches.
With a third title, Williams has a legitimate claim as a top five coach ever in the college game. Without it, he probably belongs in at least the top 10. The numbers are pretty incredible.
During his Hall of Fame career, Williams has now coached his teams at Kansas and North Carolina to 17 regular season conference titles, seven conference tournament titles and made nine Final Fours.
Win or lose, the man has earned his place as a coaching legend and this year's run to the title game has resulted in his career body of work getting the credit it deserves.


2. KNOX SETS MISSOURI VISIT
At last week's McDonald's All-American Game, five-star small forward Kevin Knox danced around questions about him possibly using his fifth official visit.
The speculation was that he could be looking to line up a visit to Missouri and 2017's No. 1 player Michael Porter Jr. wasn't exactly hiding his attempt to recruit Knox. Over the weekend, Knox announced via Twitter that he will indeed be visiting Cuonzo Martin and the Tigers.
Can Missouri really come from behind and win out for Knox? That remains to be seen but the move has to be seen as a surprise to his other four finalists Duke, Florida State, Kentucky and North Carolina, which have spent the better part of the last two years recruiting him.


3. ADDITION OF DAVIS WILL BOOST STANFORD CLASS
Washington's loss is now Stanford's gain. After de-committing from Washington in the wake of the Lorenzo Romar firing, versatile point guard Daejon Davis wasted little time deciding on Stanford.
The Cardinal came close to landing Davis in the fall, but with another chance to get the point guard they coveted they moved quickly to lock up Davis.
With Davis in the fold, Stanford now has a very strong three-man class full of late bloomers and long-term difference makers. Four-star small forward Kezie Okpala is one of the fastest rising prospects in the senior class and a candidate for a move to five-star status in the final rankings. Also, German power forward Oscar Da Silva is another skilled big man with size and scoring ability.
With the carnage of Washington's recruiting class and some other changes we will be updating the 2017 team rankings this week. Look for Stanford to make an impressive debut.

4. WEATHERS A HOT NAME ON TRANSFER MARKET
This time of year, the transfer market is hot. One of the hottest names on the market is Miami (Ohio) freshman point guard Michael Weathers, who along with his brother Marcus Weathers has been granted a release.
During his lone season in Oxford, the athletic 6-foot-2 point guard averaged 16.7 points, 4.8 assists and 4.2 rebounds per game while his brother, a forward, averaged 9.7 points and six rebounds per game.
Since receiving his release on Friday, Michael Weathers told Rivals.com that he's heard from Boise State, St. John's, Tulsa, Miami (Fla.), Oklahoma State, Missouri, Illinois, Nevada, Texas A&M, George Washington, Georgia Tech and Xavier. So far, he has set official visits with Boise State, St. John's and Miami, and should have one finalized with Xavier soon. His brother Marcus has heard from Boise, Tulsa and Colorado State.

5. POINT GUARD OPTIONS EMERGING
Just a few months ago, there was five-star Trevon Duval and that was about it when it came to quality point guard options. Now, thanks to emergence of new players and some de-commitments there are suddenly new options on the market.
The No. 3 player in the class, Duval remains the most coveted and is down to Arizona, Baylor, Duke, Kansas and Seton Hall. But now four-stars Makai Ashton-Langford, Tremont Waters and Mark Smith are on the scene and three-star Thomas Allen is another Rivals150 prospect who could help a program.
Ashton-Langford asked for his release from Connecticut on Friday and will be a prime target. He's big, he defends and he is a traditional setup guy. Providence was real close with him when he picked UConn and others such as Syracuse, Arizona State, Kansas and many more are likely to take a run at him.
Formerly of Georgetown, Waters is a high scorer who has been mostly silent since asking for his release and right now it's anybody's guess. Smith, who came on strong as a senior, is being heavily pursued by Illinois, Michigan State, Missouri, Kansas State, Ohio State and others, while Kentucky was in to see him on Friday. More of a scorer and perhaps a natural two guard, Allen can really shoot from deep and has heard from the Kansas, Auburn, Michigan, Tennessee, Providence, Butler, Nebraska and many others.