Starting Five: Pearl starts fast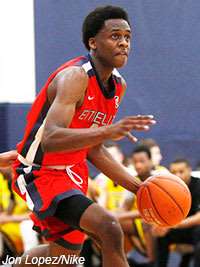 Make no mistake, though, the main attraction to Auburn is and will remain Pearl. He has proven at each stop in his career that he can win, recruit and develop talent and there's no reason to expect that he's not going to do so at Auburn. The job that he and his staff have already done on the recruiting trail is nothing short of impressive, and there is no reason to think that they won't have more success this year and down the road.
During his high school days, Cauley-Stein was an impressive physical specimen. He could run, he could jump, was incredibly agile for a big man and he had the type of frame that would easily carry more muscle without hindering his athleticism. He was more advanced defensively than offensively, and he frustrated at times because his production didn't always seem to match his physical gifts or overall ability level. There have still been some up and down moments during his college career, but Cauley-Stein has developed into a player who is almost certainly going to be a first-round pick in the NBA Draft when he leaves college. The question is could the same happen for Moore?
After all, Moore is similar to Cauley-Stein in so many ways. Their games are a bit different with Cauley-Stein being more of a defensive stopper in his high school days and Moore perhaps being more offensively skilled at the same stage. But, Moore is every bit as big and he is also quite athletic (though not quite as fluid and agile as Cauley-Stein) and he also suffers from inconsistency like Cauley-Stein did. When Moore is fully engaged and playing with energy on both ends, it isn't tough to envision him playing in the NBA. The problem is that he is often quiet on the floor and has many outings where his production doesn't seem to match his physical gifts.
The key for Moore is that he is still very young and that he does have that next level type of talent. Now, it is up to him to find the college situation and coach who is most likely to help pull all of that ability out of him.
Over the weekend, Under Armour held its annual Elite 24 game in New York City. Played alongside the Brooklyn Bridge, the game featured an absolutely breathtaking view of the Big Apple skyline and a setting for basketball that was second to none Rivals.com has ever seen.
Can Tinkle and his staff seal the deal on these prospects? Only time will tell, and they will certainly face stiff competition. But, it has been a while since this much talent has been on campus for one weekend and Beavers fans have to see it as a sign of progress.
Finally, we end this week's Starting Five on a somber note.
According to the UT San Diego, Shanun rented a kayak on Saturday, and the kayak capsized that afternoon. Efforts to rescue him were unsuccessful, and the 17-year-old who had emigrated to the United States from Ghana was found on Sunday morning.

[rl]