Starting Five: Maker to test NBA Draft waters
For most of the past two years, the speculation has been that five-star big man Thon Maker would either try to enter the NBA Draft or head overseas. The senior has steadfastly denied those rumors. Well, until Sunday night, when he announced that he would apply for this June's NBA Draft.
We discuss Maker's situation and more in this week's Starting Five.

1. Maker to apply for the NBA Draft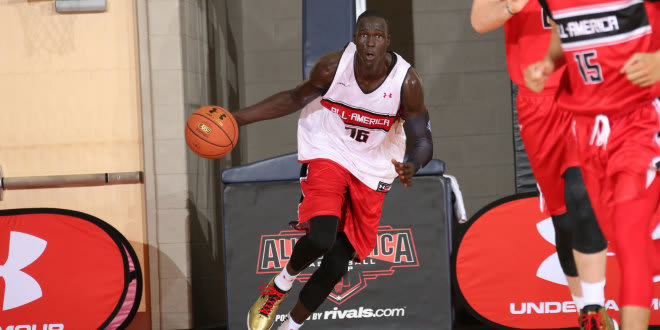 Five-star center Thon Maker announced via a video on Bleacher Report that he will apply for the 2016 NBA Draft.
Though Maker and those close to him have denied for most of the last two years that he would look to play professionally out of high school, this is a move that has always been a serious consideration.
The athletic and versatile big man who prepped for the last two years at Mono (Ontario) Orangeville Prep faces questions about his eligibility for the draft.
According to sources close to Maker, he has not yet filed paperwork with the NBA to see if he is eligible. That is expected to happen within the week.
Rivals.com spoke with several NBA sources Sunday night, and it's unknown whether Maker is seeking eligibility based on him being considered an International player or if he will argue that he graduated in the spring of 2015. Either way, he's going to test the process.
Should Maker be declared ineligible for the draft, his next move is unclear. He visited Kansas and UNLV officially in March and had scheduled April visits for Arizona State and Notre Dame. Whether he will look to take those visits and head to college or explore playing professionally overseas remains unclear.
In the meantime, a source close to Maker confirmed to Rivals that he will begin to prepare for the draft by working out with NBA workout guru Drew Hanlen of Pure Sweat. NBA sources have told Rivals that as of right now they would slot him anywhere from the latter part of the lottery to top 20 in the first round.
Should Maker be declared draft eligible, it could open the doors to more "prep" school prospects looking into their eligibility.
2. Marquette lands four-star guard
Via one of the more creative announcements in a while, four-star combo guard Markus Howard announced Sunday that he will play his college ball at Marquette.
Currently ranked No. 40 in the class of 2017, Howard is expected to graduate early and head to Milwaukee as a member of the class of 2016.
A high-scoring guard who can play either the one or the two, Howard is a three-point shooting specialist. With the move to 2016, he will join four-star combo forward Brendan Bailey and Rivals150 swing Sam Hauser to make up Marquette's incoming freshman class.

3. SMU lands Rivals150 big man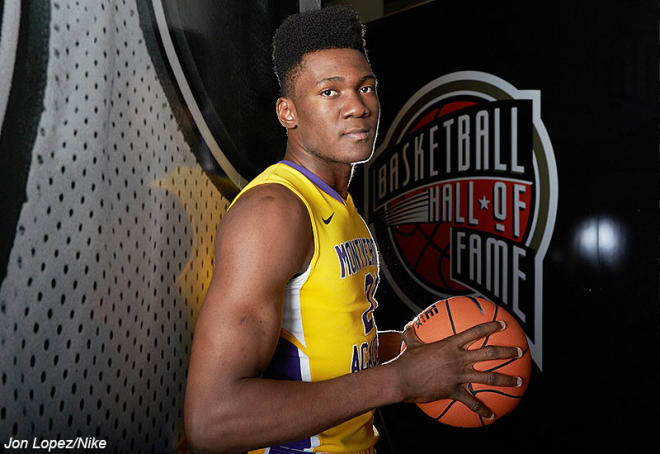 SMU had to sit out this year's NCAA Tournament because of NCAA sanctions. However, those sanctions have done little to slow down the Mustangs on the recruiting trail.
The latest addition for Larry Brown and his staff is Rivals150 center Bruno Fernando. A 6-foot-10 big man at Montverde (Fla.) Prep who is a native of Angola, Fernando is a big, strong and athletic interior player. He is raw offensively and has battled foul trouble, but he rebounds, blocks shots, runs the floor and has considerable upside.
Fernando joins a class that has talent and a definite International flavor. The Mustangs have landed two Australians in four-star power forward Harry Froling and guard Tom Wilson while four-star big man Ted Kapita (who ranked No. 53 in the class of 2015 when he initially signed with Arkansas) is from the Democratic Republic of Congo. The final member of SMU's class is three-star guard Dashawn McDowell.

4. Ferguson pulls off April Fools Day prank
Five-star Terrance Ferguson pulled the wool over the eyes of many recruiting fans when he announced that he would tweet out his college decision on Friday night. Ranked No. 12 overall in the 2016 Rivals150, the 6-foot-6 shooting guard is most likely down to Arizona, Baylor and Kansas, so his announcement set off a flurry of activity on social media.
Though sources close to Ferguson quickly confirmed that he was simply playing an April Fools prank, many were still caught up and the senior -- who will likely decide in the next two to three weeks -- pulled off a pretty solid troll job, though he has since removed his tweets.

5. Stallings retains Pitt's recruiting class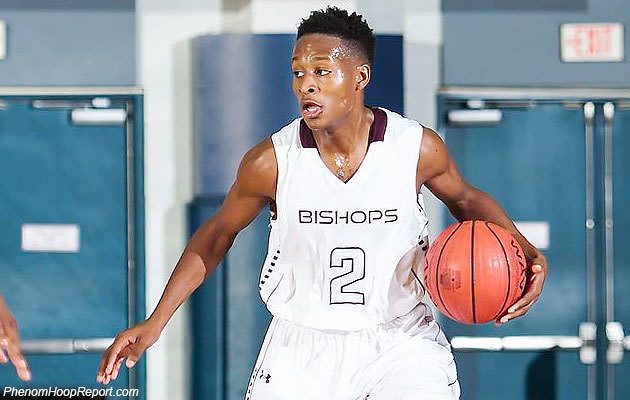 Whether Kevin Stallings turns out to be the right man for the job at Pittsburgh or not remains to be seen, but he's already off to a solid start.
Faced with the potential of seeing the Panthers' three-man 2016 recruiting class raided, Stallings has talked three-star point guard Justice Kithcart, Rivals150 big man Corey Manigault and three-star junior college shooting guard Crisshawn Clark into sticking with him.
A potential Rivals150 floor general, Kithcart is a scoring point guard who excels at getting into the paint and making plays. Manigault is a potentially rugged rebounder and scorer who took big steps as a senior, while Clark is expected to provide some maturity and ability to stretch defenses.