Starting Five: Losing Porter Jr. didn't derail Mizzou turnaround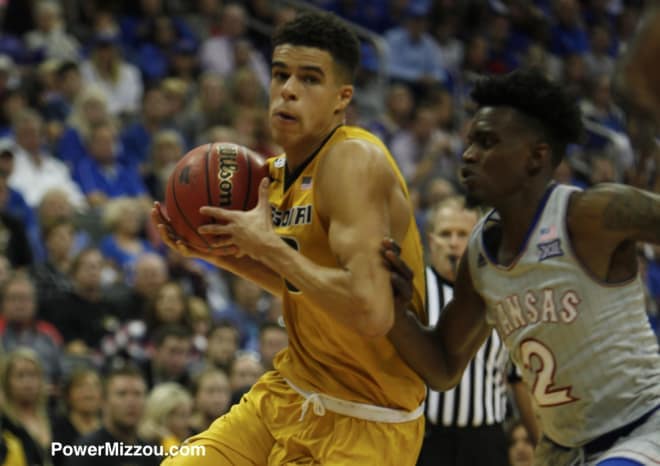 1. NO PORTER JR., NO PROBLEM AT MIZZOU
After three-straight seasons of 20 or more losses, the 2017-18 season was supposed to be the one where Missouri played its way back into national relevance. The Tigers had a new coach in Cuonzo Martin and 2017's top-ranked player in Porter Jr. to help turn things around.

The Tigers have turned things around, too, just not as I nor anybody else expected that they would.
On Saturday in Columbia, Missouri beat Arkansas to finish the regular season at 20-11 (10-8 in the SEC) and likely cement a berth in the 2018 NCAA Tournament. All of this with Porter Jr. playing a grand total of two minutes this season.
While rumors have swirled suggesting that Porter Jr. could play any day after recovering from back surgery, he hasn't taken the floor. There's hope that he could still do so in the SEC or NCAA Tournament. It would be a huge story. But, I think that as much as Missouri basketball can thank Porter mania for getting the program back into the headlines, they may also be able to blame the mania a bit for perhaps taking the spotlight off those who managed one of the most impressive turnarounds I've seen in a while.
Martin came in preaching toughness and he looks to have instilled plenty of it back into the Missouri program. In addition to Porter Jr. he locked up big men Jeremiah Tilmon and Jontay Porter. The two freshmen bigs have been a boost all season and lately Porter has really taken things to a new level. Fifth-year transfer Kassius Robertson has been outstanding as one of the SEC's best shooters and Martin has maximized the performance senior Jordan Barnett.
That the Tigers have completed this turnaround without Porter Jr. and without a high-level point guard – though Jordan Geist has given his all – should be a really promising sign for Missouri fans.
Next year, the Tigers won't have a big-time recruit arriving on campus (they are still in the thick of it for top 40 point guard Courtney Ramey, who was on hand Saturday), but they'll return heightened expectations. If year one under Martin is an example of what to expect, then Tigers fans should expect another NCAA Tournament team.

2. DECOMMITMENTS OF POINT GUARDS WILL CAUSE A STIR
It's not often that two high-level point guards open their recruitment in the same week, but it happened last week as top 40 senior Brandon Williams and top 10 junior Ashton Hagans each opened their recruitments.
Williams backed out on Arizona due to the headlines over the federal investigation into college hoops, while Hagans stepped away from Georgia because of uncertainty surrounding coach Mark Fox's future.
Williams could really see things get crazy. He's wrapping up his final season over the next week or so and won't start looking more into his recruitment until then. However, Oregon did offer already and any high-level program in need of help is going to be all over Williams. He has size, he's quick, he's athletic and he can score in bunches.

Though he's in the class of 2019, the rumor with Hagans for some time has been that he will end up in 2018. After he decommitted from Georgia, some close to him informed media to go ahead and run with it that Hagans would indeed make the move to 2018. Shortly later, those brakes got pumped and for now Hagans is back in the class of 2019. Marquette and Georgetown immediately jumped in with offers and North Carolina and N.C. State, who had previously offered, have both been out to see Hagans already.
There's no word yet on whether or not Hagans will still take a hard look at moving to 2018, but it looks as if he will be playing April live period events with his summer team Game Elite. My guess is that Hagans will end up looking at 2018 and seeing how realistic an option it is.

3. MEMPHIS ADDS POINT GUARD WITH POTENTIAL
When talking about potential point guards of the future, most Memphis fans have been thinking local four-star Tyler Harris is the floor general of their dreams. Rather than waiting on Harris, though, Tubby Smith and his staff went out and got their man when three-star point guard Myreon Jones committed.
I know he doesn't have the ranking that Harris does, but Jones is somebody who I think could end up a really nice get for Smith and the Tigers. He has very good size, he's a good athlete and the Alabama native can certainly get to the rim.
I've not seen as much of Jones on the high school level as I did Keenan Evans. But what I remember liking about Evans when he signed with Smith at Texas Tech is similar to some of the strengths I've noticed with Jones.
Now, can Jones be the type of leader that Evans turned out to be? That I don't know. But if he can be, Memphis has a potential steal on its hands.

MORE MEMPHIS: TigerSportsReport.com
4. FOUR REMAIN FOR VALDIR MANUEL
The pickings are pretty slim for legitimate high-major big men in the class of 2018 and one of them is down to four.
Over the weekend, my co-worker Corey Evans reported that physical 6-foot-9 center Valdir Manuel is down to Illinois, Seton Hall, Syracuse and Wake Forest.
Headed into his senior season, many thought that Seton Hall had the inside edge. But, the Pirates haven't been able to seal the deal on Manuel, who has yet to take any official visits, and now they've got some competition.
Once he starts setting visits, Manuel may start to give off more of an indication of what direction he might be leaning. I'd probably be a bit nervous about Syracuse if I was one of the other programs in his final group. He's a fit at any of them, but he's exactly the type of guy who Jim Boeheim seems to swoop in on and plug into a seemingly never-ending parade of big guys to help anchor the zone.

5. THAD MATTA LOOKING TO GET BACK IN?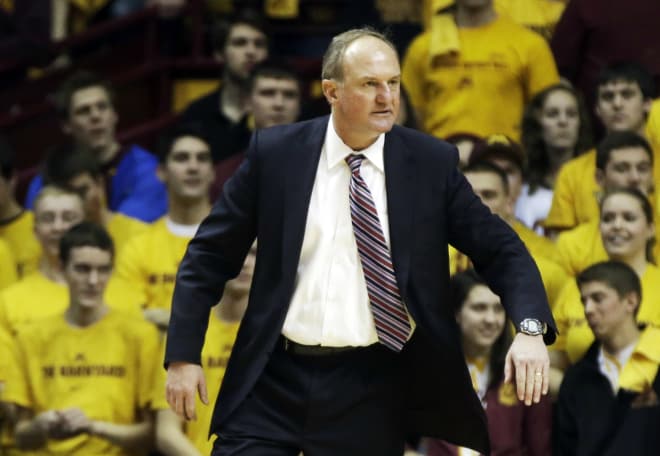 Nobody expected that Thad Matta was going away for good when he and Ohio State parted ways. He's still too young (50) and too dang good (five Big Ten conference and four conference tourney titles at Ohio State) to not eventually find his way back into coaching.
A few weeks ago, word started circulating that he was looking to get back in after just one season out and I kind of dismissed them. I thought he might want another year or two to get healthy and take a mental break. But, he has met with Ole Miss about its vacancy.
If I'm Ole Miss and I can get Matta to lead my program, it's a total no-brainer. I'm not sure how great of a fit Matta – who has done all of his coaching damage in the Midwest – is in the SEC, but he'd be too good to pass on if he's really interested. On the other hand, I would guess that Matta meeting with Ole Miss is just as much about showing other potential destinations – say a place like Pitt if it moves on from Kevin Stallings – that he's serious about finding a new gig as it was about him really wanting to be the Rebels' next coach.
Regardless of what Matta's strategy is, his entrance to the coaching carousel is certainly an interesting one.