Starting Five: Kegler sets visits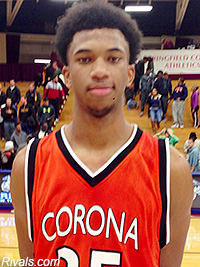 Though he hasn't yet tipped his hand and cases can be made for each of Winston's three finalists, the Spartans are the favorite.
A 6-foot-4 shooting guard at Gilbert (Ariz.) Christian, Satterwhite is one of the West Coast's highest flyers. However, there is an interesting twist in his decision to open things up.
Satterwhite tweeted that he would like to explore other options, but it will be interesting to see how schools approach his recruitment because he suffered a torn ACL during the summer that will cause him to miss his senior season.
Prior to committing to Colorado, Satterwhite had received mostly mid-major level attention. Theoretically, most programs stopped evaluating him once he committed and he won't exactly be able to work out for anybody this winter. Still, his athleticism is well known and certainly others took notice of him during the summer, even if they weren't necessarily scouting him while watching him play for the Arizona Power.
The class hasn't had enough time to establish any identity. Many players have lots of maturing to do or haven't even made their way onto the radar and the pool of players that Rivals will be ranking from come April of 2018 will be exponentially larger than it is today. Also making things difficult with an early ranking of the sophomore class is that many spent the summer playing on different levels. Comparing domination of 15U to solid contribution at the 16U level or flashes of brilliance at the 17U level is tough to do.
With that in mind, the first ranking will be a conservative top 25 and we'll lean towards those we have seen the most. For now, there aren't likely to be more than 10-12 prospects who get early five-star ratings. Beyond the top 25, look for an additional 25-30 non ranked prospects to be assigned four-star ratings and anywhere from another 35-40 to be assigned three-star designations. As we see more prospects during the fall and early winter, we will tweak the rankings and add star ratings to more prospects.