Starting Five: Josh Jackson steps up; latest on Duval visits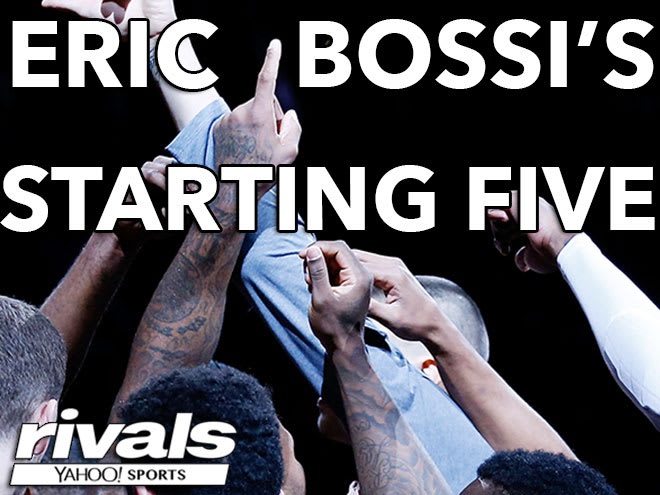 The class of 2016's No. 1 player, Kansas freshman Josh Jackson stepped up when his team needed him most. Is Trevon Duval ready to make official visits? Class of 2018 point guard Courtney Ramey has some favorites emerging. That and much more in this week's Starting Five.

1. JOSH JACKSON BRINGS IT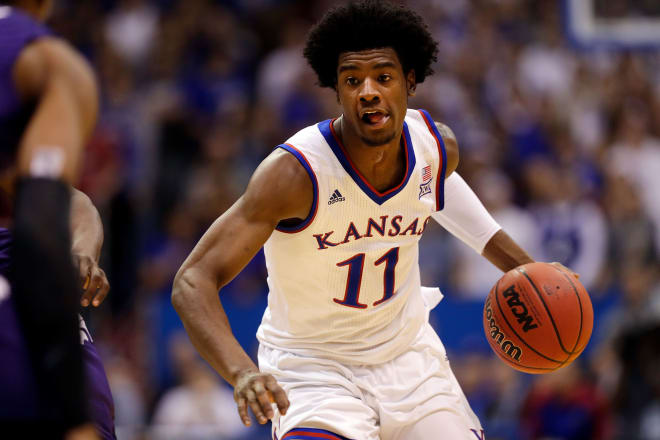 The No. 1 ranked player in the class of 2016, Kansas freshman Josh Jackson had been having a very good season for the Jayhawks. On Saturday night, when they needed him most, the 6-foot-7 wing was the best player on the floor during a 20-point, 10-rebound and three-assist effort during KU's win over Kentucky at Rupp Arena.

Whether it was his poise in the first half as he kept Kansas in the game with his drives to the basket, his three-pointers to ignite the Jayhawks early in the second half or his offensive rebound and putback that sealed the game in the final minute, Jackson showed the stuff that led Rivals.com to rank him No. 1 in his high school class.
Based on our most recent conversations with NBA executives, Jackson is likely going to be drafted in the top five of June's NBA Draft and he still has a shot at the top spot. The NBA loves his ability to make plays in space, his competitive spirit and potential on the defensive end. Questions linger regarding his jump shot, but Jackson has made big strides as the season has gone on -- especially as a catch-and-shoot guy from deep.
Some other freshmen are putting up better individual numbers than Jackson's 15.7 points, 6.7 rebounds and 3.1 rebounds per game, but at this juncture he's as important to his team and playing as well as any first-year player in college basketball.


2. DUVAL'S VISITS SHOULD BE FINALIZED SOON
At the recent Hoophall Classic, 2017's top ranked point guard Trevon Duval said he pretty much had visits to his final five of Arizona, Baylor, Duke, Kansas and Seton Hall lined up and that his father would have the dates.
We were able to check in with Duval's father Trevor recently and he told Rivals.com that there were just a few dates that needed to be finalized and coordinated with his son's schedule at Bradenton (Fla.) IMG. Over the weekend, one of those dates got finalized.

Monday, Duval tweeted out that his first visit is set and that he will be visiting Kansas -- where he visited unofficially in October for their Late Night in the Phog event -- officially beginning Tuesday of this week..

There has been a lot of talk about Duke lately and sources confirmed that Duval and his IMG teammates were on campus in Durham on Thursday while making their way to Virginia to play in a weekend event. There's also speculation that Duval will make his official visit to Duke when they host North Carolina on Feb. 9.
Provided these visit dates hold up, that leaves three yet to be determined. Regardless of dates, it is very clear that Duval is starting to move towards making a decision.

THREE STANDING OUT FOR COURTNEY RAMEY
The No. 28 ranked player in the class of 2018, point guard Courtney Ramey recently "cut" his list to final 13 of Arkansas, Creighton, Florida, Kansas State, Illinois, Iowa State, Louisville, Missouri, Northwestern, Marquette, Ohio State, Texas and USC.
Look for the standout from Webster Groves (Mo.) High to be making another cut in the near future.
While there isn't a set date or number of teams that the cut will be made to, three favorites have emerged and there is a possibility that his list could be cut all the way down to just three schools. According to Ramey's father Terrell, Creighton, Florida and Louisville -- Rick Pitino and all three of his assistants watched Ramey on Friday night -- have started to create some distance between themselves and the pack.
For Ramey, it's all about creating the best relationship possible with the head coach and those three programs have done the best job to date.
Though he's taken several unofficial visits in the past, Ramey doesn't have any future visits planned at this time.

4. BOWEN DONE WITH VISITS
On Sunday, Michigan State scored a home win over Michigan. It wasn't just any home game, though, it was also their last chance to impress Michigan native and five-star small forward Brian Bowen.
At MSU for his official visit, the high scoring and skilled wing got one last look at a program and campus that he knows quite well. Having already visited Arizona, Creighton, NC State and Texas, the question is now whether or not Tom Izzo and his staff have done enough to talk Bowen -- who played his first two years of high school ball in Saginaw -- into returning home for college.
There is no decision date set at this point, however Bowen told Rivals.com at the Hoophall Classic two weeks ago that he would be ready to decide shortly after his visit with the Spartans.
As of Sunday night, there wasn't much information available regarding Bowen's visit but with a decision looming large, it looks like it will come down to the Spartans and Sean Miller's Arizona program.
In other Michigan State news, three-star senior shooting guard Greg Elliott announced via his Twitter account that he has received an offer from the Spartans after making a trip to the Michigan game.

5. RYAN CHECKS OUT NORTHWESTERN
He doesn't look like he's in any rush to make a decision, but four-star junior shooting guard Cormac Ryan has been making sure he's got the information that he needs.
After visiting Stanford, Villanova, Yale and Pennsylvania earlier this winter, the 6-foot-5 scorer from Massachusetts took in Northwestern's home win over Indiana on Sunday.
One of the best shooters in the class of 2018, Ryan has also drawn significant interest from Notre Dame and Michigan among others.
Currently, there are no plans for future visits and no timetable for setting a final list. However, look for Ryan to eventually lock in on programs that feature high level academics to go along with high level hoops.