Starting Five: Jones cuts list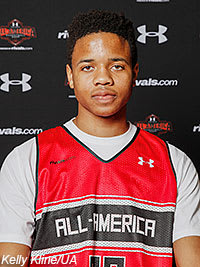 According to Jones, he next wants to set official visits and for now the plan is to take his time and not make a decision until sometime during his senior season.
Though the 6-foot-4 senior is built like a football player and has played the sport in the past, he's fully dedicated to playing hoop on the college level.
A 6-foot-4 point guard from Bel Air (Md.) John Carroll, Quickley turned heads with his summer play for Baltimore Elite. He has terrific size for the position, is a good athlete and has terrific instincts off the dribble.
"They have a beautiful campus and he enjoyed watching practice," Williams said. "He's close with (assistant) coach Book Richardson."
Williams said that there is no set timetable and that the first order of business will be for Fultz to sit down with those around him, discuss how he's feeling about his recruitment and then go from there.
Already rated as a three-star prospect by Rivals.com after we saw him in July, Crutcher is somebody Robinson thinks is on the verge of making the jump from mid- to high-major prospect.
Crutcher gets to the rim, scores well from the perimeter and can play as a setup guy or a primary scorer. He has good size and length and a body that he can grow into as he moves down the road.