Starting Five: Jolly opens it up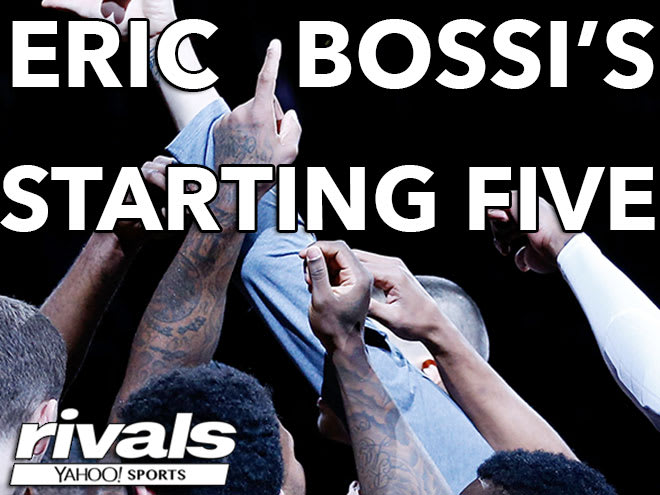 The pool of available players in the class of 2016 looks like it will be getting a valuable four-star addition as shooting guard Tyson Jolly has had a change of heart. Romeo Langford is doing special things in Indiana as a sophomore and 2017 four-star Jordan Goodwin might be a budding Marcus Smart?
These topics and more in this week's Starting Five.
1. Jolly asks for release from Cal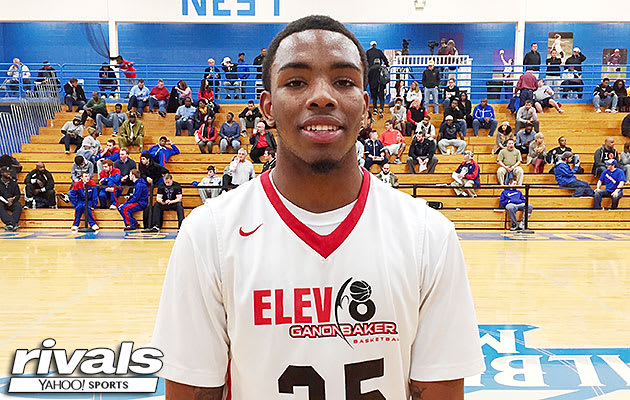 Four-star shooting guard Tyson Jolly has announced via his Twitter account that he will seek a release from the letter of intent he signed with California.
A native of Oklahoma City who committed to Cal for 2015 and was a top 100 player in that class, Jolly has spent the 2015-16 season doing a year of prep school at Delray Beach (Fla.) Elev8 Academy.
Jolly confirmed to Rivals.com that he will seek a release and he said that he's not expecting there to be any issues.
Though no teams can contact him until he has been released by California, expect Jolly to field immediate interest. He is a tough guard who can attack the basket, keep defenders honest with his jump shooting and he is a very good athlete. Among the programs that would have immediate interest are Arizona, Arkansas, Florida, Texas, Ohio State, Texas A&M, Missouri, Nebraska and Cincinnati.
2. Langford goes off
Thanks to a gigantic sophomore season, 6-foot-4 shooting guard Romeo Langford of New Albany (Ind.) High has been designated a five-star prospect ascended to No. 14 overall in the 2018 top 75.
Over the weekend, Langford was at his best as he scored 46 (43 in the first three quarters) with Louisville head coach Rick Pitino in the stands to move his team into next weekend's Indiana 4A State Championship game.
A sharp shooter from deep with athleticism and an ideal basketball build, Langford already holds offers from Louisville, Indiana, Purdue, UCLA and Vanderbilt. Duke has expressed interest and he'll draw lots of eyes during the April evaluation periods.
3. Is Goodwin Marcus Smart on training wheels?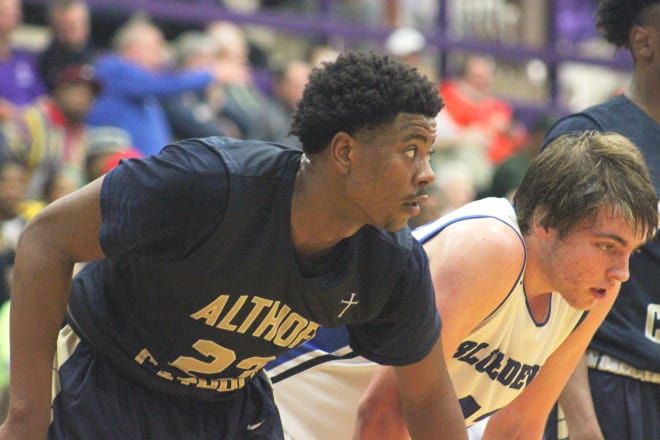 In the class of 2012, combo guard Marcus Smart was one of the toughest players to describe and certainly one of the toughest to stop. A ball of toughness and somewhat unconventional style, he didn't fit any traditional position molds and all he did was win before eventually making his way to the NBA.
We aren't fitting 2017 guard Jordan Goodwin for an NBA uniform just yet. But, the more we see the 6-foot-3 tough man from Belleville (Ill.) Althoff who ranks No. 65 overall, the more we see some similarities between he and Smart.
Like Smart, Goodwin has a football type body and is more explosive than you realize. He's also a guy who gets things done in many ways and he's a winner. Over the weekend he led Althoff to an Illinois 3A State Championship and the way he did it was impressive. During the semis and finals, Goodwin racked up 44 points, 25 rebounds, six assists and five steals while leading his team vocally.
On the recruiting front, Illinois and Missouri have most often been considered the teams to beat with Iowa, Creighton and Purdue also involved. He'll hit Nike's EYBL circuit with the St. Louis Eagles this spring and it wouldn't be a surprise to see more offers pour in.
4. Bigby-Williams emerges from Juco ranks
Originally committed to play his college basketball at Montana State, a native of London, England, has emerged as the hottest name in junior college basketball.
A 6-foot-10 center at Gillette College in Wyoming, four-star sophomore Kavell Bigby-Williams was already one of the most sought after recruits in junior college basketball. After his performance at last week's NJCAA National Tournament in Hutchinson, Kan., where he had 57 points, 49 rebounds and 23 blocks in four games, his stock has gone through the roof.
He's athletic, he runs and he plays with great energy on the glass and as a defender. Word coming out of Hutch was that Oregon could be the early favorite. However, others who are heavily involved include Texas, Utah, San Diego State, Missouri, Arizona State, Charlotte and Bradley.
5. Notes from around the country
The various state tournaments have nearly run their course. However, we were able to spend some time watching action from around the country over the weekend. Here's some quick hitters:
Five-star small forward Jayson Tatum finished out his career at St. Louis (Mo.) Chaminade in style. On Thursday the Duke-bound senior who ranks No. 3 overall in the class of 2016 surpassed current Washington Wizard Brad Beal as Chaminade's all-time leading scorer. On Saturday, he scored 40 points and grabbed 14 rebounds to lead Chaminade to a Class 5 title game victory over Springfield (Mo.) Kickapoo.
I continue to believe that USC is getting a glue guy that will provide toughness in Encino (Calif.) Crespi shooting guard De'Anthony Melton. He made several toughness plays and provided some scoring to help Crespi advance to a California state title game next weekend.
A freshman to watch out of the Chicago area is 5-foot-10 point guard Marquise Walker of Westchester (Ill.) St. Joseph. He scored 18 points and handed out four assists in a 3A semifinal loss to the previously mentioned Jordan Goodwin and Belleville (Ill.) Althoff. Walker is an off the dribble attacker who plays with some flash and has a nice pull-up jumper. He hasn't yet earned his first offer, but they should start coming after coaches see him playing for Example Sports 17U team this spring.
Memphis (Tenn.) East has the potential to be a special program for the next few years. On Saturday, Memphis East – where former NBA star Penny Hardaway is an assistant – beat Cordova (Tenn.) High in an entertaining game to win a Tennessee State Championship. Sophomore point guard Alex Lomax, who was named Mr. Basketball and the Gatorade Player of the Year, hit the trifecta by earning the state tourney MVP as well. Sophomore shooting guard T.J. Moss already ranks No. 35 in the 2018 Top 75 and has offers from Memphis, Ole Miss, Iowa State and Connecticut. Then there's 6-foot-8 freshman Chandler Lawson. The younger brother of current Memphis freshmen Dedric Lawson and K.J. Lawson and the son of Memphis assistant Keelon Lawson, Lawson is a long-armed and skilled insider who not surprisingly has an offer from Memphis.
Finally, one more freshman to keep an eye on is 6-foot combo guard Mario McKinney of St. Louis (Mo.) Vashon. Quick and athletic, McKinney helped lead the historic Vashon program back to the top of Missouri basketball with a state title win in Class 4.