Starting Five: Elite bigs visit IU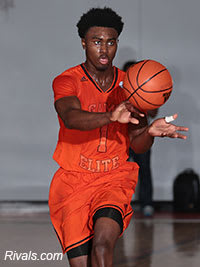 Syracuse is closest to home and had been an assumed leader for quite some time, but word of late had been that the Orange were possibly fading and with last week's scholarship hits delivered by the NCAA, it is going to be tough for them to finish off the recruitment. Lately, the buzz has shifted to Indiana perhaps moving slightly out in front and Bryant being there for a second visit and wearing Indiana gear behind the bench didn't exactly do anything to slow those rumors down.
Neither Maker nor Bryant has set any kind of decision date -- and the possibility of going overseas to play professionally continues to loom for Maker -- but even with the loss, there are plenty of positives for Indiana fans to take out of the two being on campus.
So, exactly what type of player is Wagner? Rivals.com spoke with an NBA scout over the weekend and the scout said Moritz isn't likely as tall as the 6-foot-10 he's being listed at, but he is plenty big to play as a college four man. The scout said Wagner has good touch, is clever with the ball and that he competes on both ends of the floor.
"He's not a guy that is on our radar as somebody who is going to be a pro right away," said the scout. "He's somebody that we see going to college and then we'll see from there. I'd look at him as a top-20 to top-40 type recruit if he were in the States."
Athletic and tough, Barnes-Thompkins is a product of Phoenix who can score in bunches. The 6-foot-2 scorer has very good burst off of the dribble, good range on his jumper and he plays with tremendous confidence. Though he isn't the biggest two guard around, Barnes-Thompkins has proven against national competition with the Magic that he can put up points in a hurry and that he can put them on high-level players. He can finish through contact and has good instincts, but will need to clean up his overall handling a little bit. Barnes-Thompkins visited St. John's a little over a week ago when they hosted their senior night at Madison Square Garden.
Shreiner is another athletic off guard and a product of Glendale (Ariz.) Hillcrest Academy. Originally a member of the class of 2014, Shreiner has a quick first step and elevates well on pull-up jumpers. He can slash to the rim and lead the break, has the quickness and length to develop into an excellent defensive player and has the tools to develop into a player who could help out as a secondary ball-handler against pressure. Shreiner made his official visit to TCU over the weekend and made his verbal commitment before heading home.
A 6-foot-4 three-star prospect from Canada, Mulder has really picked up steam of late. Mulder can play above the rim and is a streaky scorer from deep. He has a good first step and plays in attack mode, but does need to get a little bit stronger if he's going to make the transition to the high-major level.


At the Tacoma Dome, the Washington 3A title game was arguably one of the most anticipated in state history as traditional Seattle powers Rainer Beach and Garfield High locked up for the title. In an interesting twist, the game was a matchup of two defending state champions with Beach having won the last three in 3A while Garfield won a 4A title in 2014. For three quarters, the game lived up to the hype, but in the fourth quarter, Garfield seized control and never looked back in a 64-51 win.