Starting Five: Early signing period storylines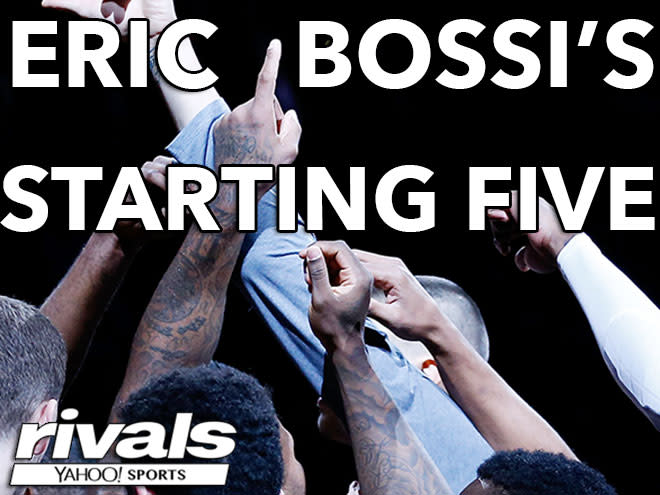 College basketball's early signing period for the class of 2018 begins on Wednesday and the top player in the class R.J. Barrett will be making his choice on Friday. In this week's edition of the Starting Five, national basketball analyst Eric Bossi looks at the top storylines of the early period.
1. WHAT WILL R.J. BARRETT DO?
Here's what we know about 2018's No. 1 ranked player R.J. Barrett and his upcoming decision. The 6-foot-7 shooting guard is down to a final three of Duke, Kentucky and Oregon. He's visited all three and he'll be announcing his decision Friday evening live on The Sports Network's 6 p.m. edition of Sportscentre in his home country of Canada.
A certain one-and-done prospect, Barrett is a pure scorer from the wing with great size, toughness and strong fundamentals. He should be an immediate difference-maker and now the question is whether that happens in Durham, Lexington or Eugene. With just four days to go until his decision, the majority of the buzz has been in Duke's favor. If the Blue Devils can swing him, they will own commitments from three of the top seven players in 2018 as he would join No. 4 Cameron Reddish and No. 7 Tre Jones.
2. CAN CLEMSON PULL IN ZION WILLIAMSON?
Maybe the most fascinating player in the class of 2018 is No. 2 overall Zion Williamson. He's a YouTube and Internet sensation thanks to his highlight reels and he's one of the most unique players that we've ever evaluated because of his athleticism and brute strength. He's also intriguing because nobody is really sure what he's going to do.
For most of his recruitment, it has been expected that Williamson would ultimately end up signing with a blueblood and for the past few months Kentucky has been seen by many as a leader. However, as Signing Day approaches, things are starting to get really interesting.
First of all, Williamson has yet to announce whether he will sign early or wait to make his decision. On top of that, rumors have been swirling that Duke and North Carolina have improved their status with him and then there's the case of Clemson. The Tigers aren't usually in it with the likes of those who are recruiting Williamson, but he's a legend in his home state of South Carolina, has been on campus several times and his step father played at Clemson. If he were to stay home where the program is totally built around him, he can create a legacy that he might not be able to do elsewhere.
The recent buzz has been favorable for Brad Brownell and his staff and they have to be considered a legitimate player. But there's a big difference between buzz and actually getting the job done. Should the Tigers land Williamson it would be one of the bigger recruiting upsets in a while.
3. WHICH BIG-TIMERS WILL WAIT? WHO WILL DECIDE?
There are still 14 five-star prospects left on the board and there's a good chance that a handful of them will wait out the early signing period. In fact, it wouldn't be a surprise to see more five-stars hold off on making their choices than signing on the dotted line.
We know that No. 1 R.J. Barrett is making his choice. It's highly likely that No. 3 overall Bol Bol picks between his finalists as well. After those two it's a pretty safe bet that No. 15 Darius Garland (likely Indiana or Vanderbilt) and No. 18 Keldon Johnson (Kentucky, Maryland, Texas) will both make their decisions.
No. 8 overall Simisola Shittu is not expected to sign early even though he's down to North Carolina and Vanderbilt and has a visit to Carolina set for next weekend. No. 9 Jordan Brown isn't likely to sign early and No. 16 Anfernee Simons, No. 21 Emmitt Williams, No. 22 Jahvon Quinerly and No. 28 E.J. Montgomery aren't likely to be making decisions.
That leaves the previously discussed Williamson, No. 6 Romeo Langford, No. 11 Quentin Grimes and No. 13 Moses Brown as guys who we think could make early decisions but have yet to announce their intentions.
4. WHICH PROGRAM LANDS THE TOP CLASS?
With their haul of five-star point guard Devon Dotson, five-star power forward Silvio De Sousa and near five-star big man David McCormack, Kansas currently ranks at the top of the 2018 team recruiting rankings. Directly on the Jayhawks' heels is Michigan State with five four-star commitments, while North Carolina, USC and LSU rounding out the top current top five.
Anybody who follows recruiting knows that Kentucky and Duke have dominated the team recruiting rankings for almost 10 years now and they are sure to be accounted for before it's all said and done. Duke already ranks No. 6 with its two five-star commits and Kentucky currently sits at No. 33 with its lone commitment from five-star point guard Immanuel Quickley. Given how many five-star prospects each is still involved with, it's reasonable to expect they make moves.
The Jayhawks are still involved with several five-star prospects themselves and securing a Romeo Langford or a Quentin Grimes could help them hold onto the top spot. North Carolina could still make a move while Indiana, Oregon and Vanderbilt (if it can somehow pull off the five-star trio of Langford, Darius Garland and Simisola Shittu) are a few of the other programs outside the current top 10 that are capable of making a strong move during the early signing period.
5. WHAT SURPRISES ARE IN STORE?
Unlike football's signing period where wild things happen regularly, basketball's early signing period is usually relatively drama-free. But, something usually pops up and the question is what could this year's surprise be?
We touched on Zion Williamson and the possibility of him picking Clemson and the potential big-time class that Vanderbilt could haul in. Those would be surprises. How about Keldon Johnson, could Maryland somehow steal him away from Kentucky and Texas? Will there be an unexpected decommitment or signing day flip? Will any of the players committed to programs impacted by the federal investigation into college hoops corruption decide to hold off on signing? We'll know soon enough.