Starting Five: DePaul loses PG of future, Georgia and Cal score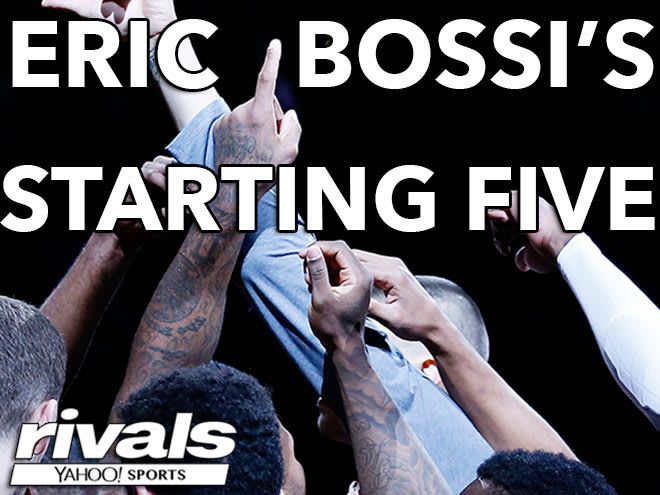 DePaul had a tough loss over the weekend losing their point guard of the future, four-star Tyger Campbell. Georgia and California scored power forwards, five-star Romeo Langford is down to seven while Auburn had some key underclassmen on campus.

1. CAMPBELL OPENS IT BACK UP
DePaul thought they had their point guard of the future when they landed four-star Tyger Campbell early in the summer. That changed over the weekend.
The six-footer who had followed his former high school coach Shane Heirman with a commitment shortly after Heirman was hired by the Blue Demons, announced via his Twitter account that he would open things back up.
Prior to his commitment, Campbell had scholarship offers from Creighton, Wake Forest, Purdue, UNLV, TCU and several others. He says that he will still take an official visit to DePaul and having his former coach on staff should help Dave Leitao when it comes to re-recruiting Campbell.
Stay tuned for more information on Campbell as news of who gets involved comes out.

2. GEORGIA KEEPS IN STATE FOUR-STAR
During July, power forward Amanze Ngumezi saw his stock soar as he went from a prospect who was relatively well thought of locally to a national level prospect.
While the 6-foot-9 power forward was making his ascension to four-star player, the thing that remained constant was the attention that Georgia and Mark Fox showed him. What was even more key was that the Bulldogs had been in there before Ngumezi's stock blew up and because of that, Ngumezi committed during his official visit to the home state school.
So, what exactly are the Bulldogs getting? With Yante Maten spending his last year on campus they are getting a more than capable replacement. Ngumezi is athletic, he's a plus rebounder and like Maten, he has some faceup game and should be able to help soften defenses with jump shooting before things are all said and done. Of course he has to continue to develop, but Ngumezi looks like a potential instant impact guy and has the tools to be at least a two- if not three-year starter in Athens.

3. CAL LANDS THREE-STAR POWER FORWARD
Things really couldn't be going much better for Wyking Jones on the recruiting trail since replacing Cuonzo Martin as California's head coach in the spring.
Already in possession of a pair of four-star commitments from combo forward Jacobi Gordon and high scoring guard Matt Bradley, Jones and his staff locked up one of their primary big man targets in power forward Andre Kelly.
A strong and thick kid, Kelly -- who starred in the summer for California based Team Arsenal -- is a sneaky explosive athlete with tremendous hands and a solid skill level. He will be ready physically for the Pac-12 and he should be a good to above average rebounder during his career at Cal.
With Kelly in the fold, Jones and Cal now have the No. 12 ranked recruiting class to this point in 2018.

4. FIVE-STAR LANGFORD CUTS LIST TO SEVEN
And then there were seven. The nation's top ranked shooting guard Romeo Langford whittled down his lists to seven finalists late last week.

The smooth and athletic sniper is down to Indiana, Kansas, Kentucky, Louisville, North Carolina, UCLA and Vanderbilt. The next step for him will be to set some official visits, but our next step is to speculate on his finalists.
For much of Langford's recruitment, Louisville has been considered a team to beat because of proximity to home. Kansas has also been said to be doing well. More recently, there have been some rumblings that Indiana has made a move since the hiring of Archie Miller and some close to his recruitment insist that Vanderbilt has a legitimate chance in this one.
As of now, we would expect that Langford ends up choosing between the Cardinals, Hoosiers and Jayhawks, but until he makes more moves with his recruitment, all we can do is speculate.

5. AUBURN HOSTS HIGH LEVEL UNDERCLASSMEN
As Bruce Pearl and his staff continue their efforts to get Auburn basketball back on the map, one of the things they've been very good at is getting young prospects on campus for visits. Their opening football weekend was another good example of this.
The Tigers hosted 2019 five-star Christian Brown, 2020 top 25 prospects Nate Tabor and Walker Kessler and another 2020 prospect in Justin Powell.
While Tabor, Kessler and Powell all have offers and will be players to watch closely down the road, where things stand with Brown are getting interesting. Brown's visit means that he's been on campus multiple times and Auburn has been said to be standing very well with him. A big-time athlete, Brown didn't have quite the summer that was expected from him, but the tools are all there to be an impact player and to continue to build a stronger relationship with him is big for Pearl and his staff.