Starting Five: Breaking down Cassius Stanley's top three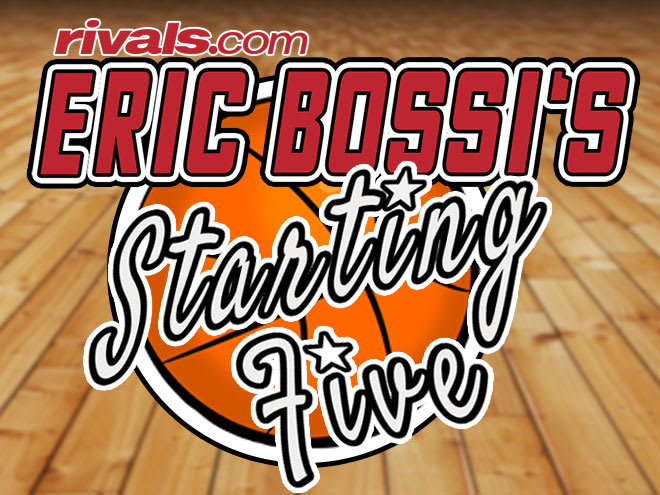 As expected, it was a bit of a busy weekend as we hit the heart of official visit season. In this week's Starting Five national analyst Eric Bossi breaks down high flying Cassius Stanley's final three and discusses some of the weekend's most notable commitments.

1. THREE LEFT FOR HIGH FLYING CASSIUS STANLEY
One of 2019's best athletes, shooting guard Cassius Stanley is down to a final three of Kansas, Oregon and UCLA. So, how does each school look as a potential landing spot for the attacking wing.
Stanley takes an official visit to Kansas this weekend and the Jayhawks would like to add an athlete such as Stanley on the wing with four-star Christian Braun, who committed last week. I don't think many have been taking the Jayhawks all that seriously for Stanley but here they are in his top three with him flying out to campus this weekend.
During the spring, there was talk that Stanley was very close to committing to UCLA where his mother Tonya ran track. However, he didn't commit then and the Bruins landed four-star small forward Jaime Jaquez and three-star wing Jake Kyman.
As for Oregon, the Ducks landed four-star junior college shooting guard Christopher Duarte last week but they're still looking to add at least one more wing athlete.
So far, the only visit that Stanley has set is the Kansas visit and all indications are pointing toward him signing early. As for a leader? It's a little too early to call this one until word starts to get out on how his Kansas visit went.

2. MICHIGAN STATE GETS A SCORER IN ROCKET WATTS
Tom Izzo and Michigan State got their 2019 class started with a bang on Saturday when they added Rocket Watts, a top 40 combo guard.
A native of Detroit, Watts has spent a lot of time around the Spartans over the years but for a while there was feeling that he could head out of state for college. Instead, Izzo and his staff won him over with their consistent pursuit and he'll immediately add a level of swagger and confidence to the backcourt that they don't currently have.
Don't get me wrong, the Spartans have plenty of talent. They always do. However, Watts is just a different kind of dude. A go-getter who creates space off the dribble, he can rise and fire from deep, he has a mid-range game and he's a tough scorer at the rim who can draw fouls. Watts is wired to score and he's not bashful about going out and getting his. He's going to arrive on campus looking to compete and he'll be tough to keep off the floor. His ability to create offense at the two will add a nice wrinkle to the Spartans' offense.


3. ARIZONA TAKES A CHANCE ON A SHOT BLOCKER
A little bit over a week after landing in-state five-star point guard Nico Mannion, Sean Miller and Arizona have added their second piece in 2019. This time, though, they're taking a swing at a developmental piece in shot-blocking big man Christian Koloko.
From Cameroon, Koloko is a near 7-footer who is still very new to the game of basketball. Not surprisingly, his offense is a bit on the raw side and he's got to get stronger. However, he plays very hard, is an enthusiastic teammate and he's also got tremendous natural instincts as a shot blocker. In fact, he led Nike's EYBL in shot blocking.
Does Koloko come in and put up big numbers early in Tucson? Not likely. However, after some time in the weight room and continued development of his offense to round out his game he could develop into somebody that can anchor the Wildcats' front line. Currently, he and Mannion give Arizona the No. 14 class in 2019.


4. VIRGINIA DIPS INTO 2021 WITH MCCORKLE
Virginia found itself a sophomore shooting guard that it liked in Carson McCorkle so Tony Bennett and his staff locked him up quickly.
A good shooter and athlete, McCorkle impressed me with his confidence and ability to mix things up off the dribble when I last watched him in July. Not surprisingly he's a bit on the thin side at this point but he's got plenty of time to add strength before he arrives in Charlottesville.
Projecting to the 2021-22 season isn't an easy thing to do, but if there would be one area for McCorkle to focus on it would be getting prepared to play the type of defense that Bennett will demand of him at UVA.


5. THORPE COULD BE BIG FOR CAL
Power forward D.J. Thorpe isn't the highest-ranked 2019 player to pick a Pac-12 program, but his commitment to Cal may be one of the most important pledges in the conference.
As Wyking Jones looks to build the program with his vision, he's managed to assemble some nice perimeter and wing players such as Justice Sueing and Darius McNeill. What he hadn't yet landed was a reliable low post scorer. Thorpe has the tools to be that guy in Berkeley. He can make the jump shot from the free throw line area, he's got tremendous feel in the low post and he's a sneaky athlete with a body to build on. Having watched him develop over the past couple of years I'm betting on him ending up a productive Pac-12 player.
Cal's second commit from the class of 2019, Thorpe joins three-star guard Charles Smith.