Starting Five: Big weekend at Cal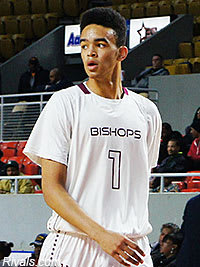 California had an important visit weekend, Kansas State landed a point guard recruit, state tournaments are in full swing and
Kassoum Yakwe
is on the rise. We look at that and more in this week's Starting Five.
Big weekend for Cal
Maybe it is unfair to say
Cuonzo Martin
and his staff at
California
just wrapped up the most important recruiting weekend since they took the job last spring. But, it is quite likely true.
The Bears hosted five-star big men
Ivan Rabb
and
Caleb Swanigan
along with Rivals150 wing
Davon Dillard
. On the floor, they took care of business, defeating
Oregon State
on Senior Day. By Sunday afternoon, they'd already landed a commitment, too, as Dillard committed during his official visit.
The first commitment to Cal's 2015 class is no doubt an important one. Dillard is physical, tough and can be a very athletic finisher driving to the rim. However, what happens with Rabb and Swanigan is a big deal.
A local player from nearby Oakland (Calif.) Bishop O'Dowd, the 6-foot-10 Rabb has been by campus since Martin arrived. Given that most other programs had been recruiting Rabb since his freshman season, there has definitely been ground to make up with the No. 8 player. He's seen
Kentucky
and he's seen
Arizona
and has said he still plans to visit
UCLA
and
Kansas
, but Rabb was at Cal over the weekend the Bears have thrown everything they have at him in hopes of keeping him home.
While Rabb has done a good job of not tipping his hand, the general feeling in the recruiting world is that his recruitment has likely turned into a battle between California and Arizona. Rabb has no timetable set for his decision, but it wouldn't be a huge surprise to start seeing some movement towards a decision sooner than later.
At this point, Swanigan appears that he might be a bit more of a longshot for Cal and at the least he will likely take longer to decide than Rabb. But, Martin and his staff have worked his recruitment hard and have some long standing relationships with members of Swanigan's inner circle. Swanigan has also been to Arizona,
Duke
,
Purdue
,
Kentucky
and
Michigan State
during the season.
K-State lands point guard
In the last week,
Kansas State
scored huge home wins over
Kansas
and
Iowa State
. A huge factor in those wins was the play of sophomore point guard
Nigel Johnson
who was relatively unheralded three-star prospect when the Wildcats signed him out of Upper Marlboro (Md.) Riverdale Baptist.
The Wildcats are hoping to catch that kind of lightning in a bottle again with the addition of three-star point guard
Kamau Stokes
, who committed after an official visit to Manhattan over the weekend.
Like Johnson, Stokes -- who is from Baltimore and playing a prep year at Fork Union (Va.) Military -- is a relatively unheralded prospect and he's from the same area of the country. At around 5-foot-10 and 160 pounds, Stokes is perhaps a bit undersized as a Big 12 point guard recruit, but he does shoot the ball pretty well from deep and he is certainly quick. Most notably, Stokes plays the game with a lot of heart.
Stokes is now the fifth member of K-State's 2015 class. He joins Rivals150 power forward
Dean Wade
, three-star Florida combo guard
Barry Brown
, three-star Texas big man
Dante Williams
and three-star Baltimore power forward
Eric Cobb
in the Wildcats recruiting class.
Yakwe takes off as junior
As a freshman, Centereach (N.Y.) Our Savior forward
Kassoum Yakwe
flashed loads of potential. He was long, lean, quick, bouncy around the rim and could make a mid-range jump shot.
The second year and summer of high school, Yakwe battled injuries and a bit of an on-the-floor identity crisis. Now as a junior, the 6-foot-8 power forward has taken his game to a new level and his stock is soaring.
Currently ranked No. 115 in the class of 2016 Rivals150, Yakwe has far outplayed his ranking and is shining on the floor. There is no uncertainty to his game and he is playing to his strengths. This winter, Yakwe has emerged as a high energy man on the glass, defensive pest and a guy who can use his athleticism and motor to make things happen on the offensive end.
Yakwe is currently on his first official visit, to Iowa State, and it wouldn't be a surprise to see more visits set in the near future.
Anunoby raw with promise
Friday night, Rivals.com was at Kansas City (Mo.) Rockhurst High to watch three-star forward
O.G. Anunoby
, who was in town with Jefferson City (Mo.) High for a game. A 6-foot-7 wing who signed with
Indiana
, Anunoby didn't have his best game, scoring 11 points as Jeff City fell to Rockhurst, but there's lots to consider with him.
Though he has enough size to play some on the interior, Anunoby has proven as a senior that he is a legitimate wing player. He handles the ball fairly well, his shot looks like it can be worked with and with his length and athleticism, he rates well in terms of physical characteristics. What he has in athletic gifts and potentials at this point, Anunoby seems to lack a little in terms of polish and consistency.
On Friday night, Anunoby looked a little sluggish and never really sought out ways to flaunt the size and athleticism advantage he had. He settled at times for jumpers and probably wasn't quite as strong on the glass as he could have been. Then again, he showed flashes of serious potential as well.
Physically, Anunoby is very similar to a young Bill (now Henry) Walker. He has a sturdy base with long arms and can explode in traffic. He is not yet the overall player Walker was at the same stage, and he's not tracking like a big impact freshman like Walker was. However, there is clearly potential with Anunoby and he has the tools to develop into a very good player before his time at Indiana is done.
State tourney tid-bits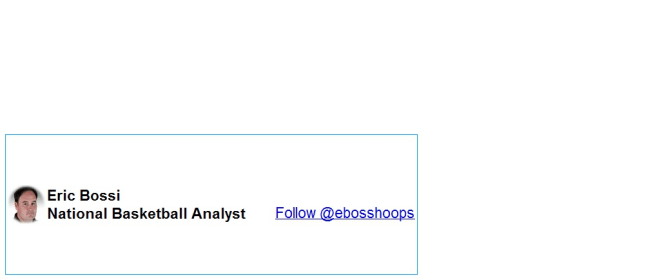 Click
Here
to view this Link.