Stars shine bright at UAA Finals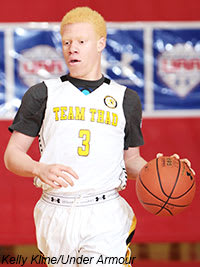 Suwanee, Ga.-The Finals for the Under Armour Association heated up on Thursday and it all started with a matchup between two of the top small forward prospects in the country. There were several other standout performances on Thursday and a plethora of college coaches on hand to take in the action.
Brown/Jackson matchup brings out big name coaches
Each team participating in The Finals played a pair of showcase games. One of the games that top college coaches and media members alike had circled on their schedules was a matchup between Game Elite and 1 Nation, which pitted the top small forward in the 2015,
Jaylen Brown
, against the top small forward in the 2016 class,
Josh Jackson
.
Brown jumped out to a big start, scoring ten of Game Elite's first 12 points on a pair triples and a pair of dunks. By halftime, the five-star prospect had tallied 20 points before finishing with 27 for the game. Brown began this travel season as a five-star prospect, but has taken his game to a new level as he's become a lights out shooter to compliment his ability to attack the rim. His play of late warrants consideration for being the top prospect in the country and somebody the NBA will covet sooner than later.
While Brown had a big game, Jackson's team won a close game late and he had a strong showing as well. At about 6-foot-8, Jackson is also a top-notch athlete with play-making ability off the dribble. He mostly scores going to the rim, but he's not just driving to create his own offense. He's got great court vision and found open teammates all game against Game Elite. He's not shooting the ball as well as Brown yet, but he has time to get there.
Team Thad tearing it up
One of the more impressive teams during July to this point has been Team Thad. Last weekend, they came to Atlanta and went undefeated in the Elite 32. They are back in metro Atlanta again this weekend and nothing has changed. They defeated Game Point on Thursday morning by a score 71-46, and it was never really close.
Four-star point
Jaylen Fisher
is the engine that makes the machine go. Team Thad's trademark is playing tough defense and getting out in transition after creating turnovers. That's where Fisher comes into play. He's usually the outlet man and he's more than likely getting the ball to somebody that will score the ball, whether himself or a teammate.
Connecticut
head coach
Kevin Ollie
watched Thursday morning's win and offered Fisher scholarship shortly after.
Nick Marshall
anchors Team Thad's defense on the back end, and has had a terrific July in that role. The 6-foot-10, 230-pound big man is a great rim protector and does a very good job snatching up rebounds in his area. After clearing the boards, he's usually busting it down the court and looking for put-backs at the rim. He's not a finished product on the offensive end yet, but he's coming along in that area. Following Thursday morning's win, Marshall named a top five that consisted of
Clemson
,
Indiana
,
Mississippi State
,
Ole Miss
and
South Carolina
.
Mack becoming a priority
It's usually a pretty good sign for a recruit when the head coach from a school recruiting him shows up to see him play. With that in mind, it's safe to say Carolina Wolves wing
Tevin Mack
has become a priority recruit with his play this July.
In a Thursday afternoon win over the New England Playaz,
Brad Brownell
,
Mark Fox
,
Frank Martin
and
Shaka Smart
made their way to see Mack play. He didn't disappoint. In the first half alone, the 6-foot-6 wing pumped in 22 points, although it did take him 16 shots to do so. Known in the past for being more of a jump shooter, he's now become a guy that has enough moves in his repertoire to get his shot off whenever he wants.
Along with Clemson,
Georgia
, South Carolina and VCU, schools such as
Auburn
, Mississippi State and
Tennessee
have been involved with Mack to date.





Click
Here
to view this Link.
[rl]