Stars shine at HoopSeen Elite Preview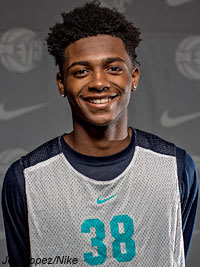 Georgia has earned a reputation over the past couple of decades for being one of the top states for high school basketball talent in the country. On Saturday afternoon, many of the top players in the Peach State made their way to Suwanee Sports Academy's Cobb facility to show off their ability in the HoopSeen Elite Preview. These campers proved once again that there is no shortage of talented basketball players in Georgia.
There aren't many players in the Peach State that have improved their stock more
He's always been very talented, but at times was too passive on the court and didn't assert himself into games enough. That
has changed over the last 12 months. He's now playing the game with much more confidence and is one of the top guards in the Southeast.
Robinson reciprocated the interest by making his way to Chapel Hill last weekend to see the second round of the
"It was fun. It was a great experience," Robinson said. "Their coaches said they are going to keep recruiting me hard and they will be watching me this spring. Coach Williams told me I'm a great player."
Robinson will spend the upcoming travel season playing for the Georgia Stars in the Nike EYBL.
For that reason, Banks decided that transferring to another school would be beneficial to his future, and found a home at Mt. Vernon Christian.
The move paid off.
Banks nearly averaged a triple-double this season with 23 points, 14 rebounds and roughly
nine blocks per game as a junior.
"It was my confidence and I've been working a lot on my footwork around the basket," Banks said when asked which areas of his game improved most.
Matched up against some other quality big men on Saturday, the
6-foot-10, 230-pound center showed why he'll continue to be a coveted prospect in the coming months. He possesses great size, runs the floor and moves well, and is a rare big that can play with his back to the basket comfortably at a young age. He's not the most explosive athlete, but uses his body and angles well to finish around the rim.
Drinnon, who stands about 6-foot-1, is the consummate point guard. He's fast in the open court, makes good decisions with the ball, and can create his own offense. He was absolutely unconscious from
three-point range in the morning session of games on Saturday and was hitting some from closer to NBA range.

he proved it on Saturday. He's impossible for defenders to stay in front of and can score with the best of them. The 5-foot-10 junior floor general had arguably the dunk of the day when he came down the lane to throw down a tomahawk with authority. He just recently added an offer from UConn