Stanford lands German forward Da Silva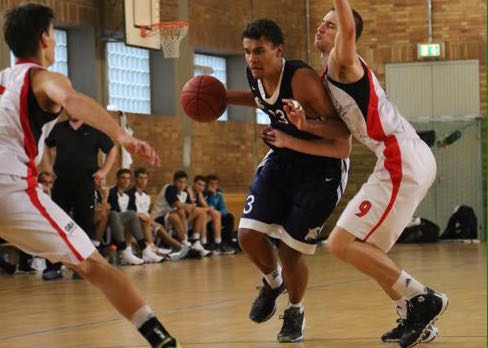 Stanford and head coach Jerod Haase have landed their second prospect from the class of 2017 and the journey that German power forward Oscar Da Silva took to wind up deciding to play his college ball in Palo Alto is an interesting one.
Last summer, Da Silva, his family and coaches at the International Basketball Academy of Munich decided that the 6-foot-9 220 pound big man wanted to play college ball in the States.
Fortunately, they had an AAU coach contact who was able to get the ball rolling.
"After having made the decision that I wanna go to college in the states my coach and I had an American contact of us, a AAU coach from LA reach out to a couple of schools which he thought might be a fit for me," Da Silva told Rivals.com.
However, a huge part of the equation was finding a high level academic program.
"You have go know that my intention in this entire deal is not only to strive to become the best basketball player I possibly can but to earn a degree that will set me up for my life after my basketball career," said Da Silva. "So we had him reach out only to high academic programs with elite level Basketball. Those were Columbia, Princeton, Cal and Stanford."
After contacting programs, Da Silva set up some visits and the rest took care of itself.
"I ended up taking a visit to both Cal and Stanford in early October this year," said Da Silva. "I enjoyed my time at both schools a lot and fell in love with the environment and the people. I was a tough decision to make for me because both schools and programs are great but so very different from each other.

"I finally decided go go to Stanford because I felt it was the better overall fit for me. I felt very comfortable with the team and the coaches as well as with my impression from the school. I can't wait to get back out there where we will try to achieve great things on and off the court."
Though Da Silva is a bit of a mystery to most hoops observers in the States, he has made waves with International scouts and he's regarded as a skilled and athletic forward with versatility to his game.
"I wouldn't consider myself to be a flashy highlight machine type of player," said Da Silva. "Rather one that does his duties on defense, giving the opponent a hard time by being in the lanes and protecting the rim and on offense by finding ways go score against a variety of types of defenders due to my versatile game and length, but also by being a facilitator for my teammates."
Da Silva went out of his way to make sure that his coaches at IBAM -- Robby Scheinberg, Kamillo Rosenthal and Tobias Brütting -- received credit for helping him reach his current level of play and to help him learn to be a well rounded player.
"I think what separates me is that I like to play both guard and forward/postman and create a mismatch a lot of times on the court," said Da Silva. "NBA comparison could be Draymond Green or Paul George."
Da Silva is the second prospect to choose Stanford from the class of 2017. He joins skilled forward Kezie Okpala who currently ranks No. 69 overall in the Rivals150.