Stanford enhances its backcourt with Michael O'Connell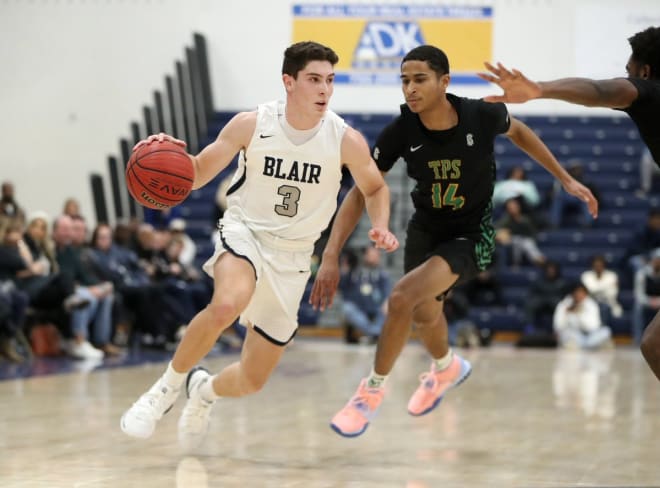 Looking to supply greater depth into its backcourt, Stanford made for an intriguing recruiting win on Monday. Heading across the nation for its latest commitment, New York native Michael O'Connell gave his verbal pledge to the Cardinal.
A 6-foot-2 lead guard that completed his final season of prep ball at Blair Academy over the winter, O'Connell had formerly signed with Maryland and was set on playing for its nationally regarded lacrosse program.
"Maryland Lacrosse is awesome. I verbally committed to them in the ninth grade. Coach John Tillman is great. He understood my love for basketball and how great of a school Stanford is. He was very supportive of my decision," O'Connell told Rivals.com about making the switch in sports and schools. "My decision on Stanford is getting the opportunity to receive a world class education. Also, to play for Coach (Jerod) Haase and to win a Pac 12 Championship."
After backing away from his lacrosse plans last month, O'Connell landed a variety of prestigious offers from some of the very best academic programs throughout America. On Friday, he committed to Stanford over Brown, Columbia, Dartmouth, Lafayette, Marist, Niagara, UC-Santa Barbara and UMBC.
He averaged close to 18 points, seven rebounds, five assists and two steals per game last season. The primary ballhandler for a very talented and successful Blair Academy squad, O'Connell is a tough-nosed, blue-collared playmaker that can make shots to the perimeter, run a half-court offense, successfully create for others off the dribble-drive, and defend at the point of attack.
Comparable to former Notre Dame standout Matt Farrell, O'Connell brings greats energy and toughness to the Pac 12 program. He becomes Stanford's fifth commitment in the 2020 class and should help the program in the coming months regardless of if Tyrell Terry opts for the NBA or decides to withdraw his name from this summer's draft. Stanford has already begun its 2021 class thanks to the commitment from top-25 guard Isa Silva.