Spiece: Ayo Dosunmu makes his push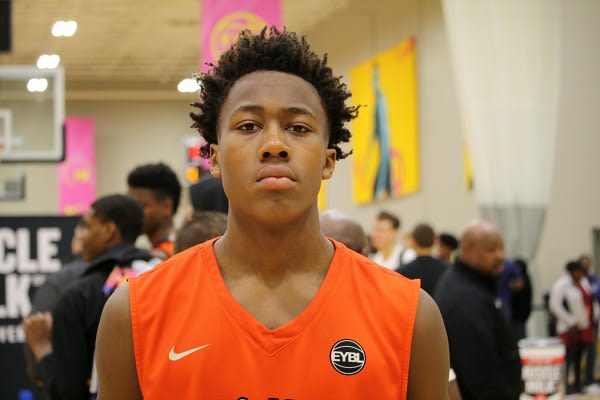 FORT WAYNE, Indiana – There was a full day of hoops on the platter on Saturday at the Spiece Run-N-Slam as the Midwest's best hit the floor. A few from the underclassmen ranks made giant statements but it was the play of Ayo Dosunmu, ranked No. 30 in the 2018 Rivals150, that kept us coming back for more.
Recruitment: Northwestern, Illinois, Xavier, Creighton, Butler, Oklahoma State and many others.
His day: Averaging close to 30 points per game throughout the duration of his weekend in Fort Wayne, his team did get ousted earlier on Saturday but we cannot speak enough on the competitive, takeover abilities out of Dosunmu. To kick off the day, the 6-foot-4 guard knocked in 29 points alone in his team's second half comeback win. His shot needs polishing but his finishing skills are second to none, leaving you with shades of a young John Wall.
Quote: "I don't know when I want to take my next visit but I am probably going to cut my list down after Peach Jam in July."
Prediction: Some of the top Midwest programs are heavily invested with the Mac Irvin Fire product but Illinois continues to gain ground by the day.
Recruitment: Iowa State, Minnesota, Nebraska, Stanford, Clemson and Northern Iowa
His day: His team went down in defeat but AJ Green's spring continues to shout improvement. He has an unbelievable pull-up game that is second to none, a body that is getting stronger by the day and a feel for things in the backcourt that allows for Green to make all of the proper decisions against an opposing defense.
Quote (on Northern Iowa, a place where his father is on staff): "They're definitely one of my top schools. I love them. I have a great relationship with everybody there. Growing up and watching them, they have always been one of my favorite teams."
Prediction: Northern Iowa remains the favorite, primarily because of his father's employment at the MVC program, though Iowa State has done a great job in recruiting the playmaking and polished junior guard.
Recruitment: Northwestern, Missouri, Michigan State, Texas A&M, Iowa State, Butler, Xavier, Creighton and Purdue.
His day: It is quite impressive just how much improved Horton-Tucker, on a physical standpoint, has gotten over the past 12 months. A bulky forward a year ago, on Saturday, the do-it-all Horton-Tucker was blocking shots a foot above the basket, throwing down poster dunks, and also displaying his unique skillset as a jumbo playmaker with an innate feel for the game.
Quote: "I was supposed to go down to Purdue and Xavier but with things being so busy, I was unable to make it. But I will most likely visit those two this summer and maybe Michigan State, too."
Prediction: The recruitment of the Windy City native is just beginning to take off as more and more schools are getting involved by the day. However, give credit to where it is due as Northwestern has been the pursuing for the longest, something that may have caught Horton-Tucker's eye.
Recruitment: William & Mary, Stanford, Northwestern, Michigan, Notre Dame, Princeton, Harvard and Penn
His day: A long and slender bodied wing that can really shoot the basketball from the 15-18 foot range, Peterson still must get stronger, that is if he wants to not see his play not dip whenever physicality is present. However, he is a much underrated passer of the ball and could see his stock take off this summer.
Quote (on Stanford): "I went out there for a visit and the campus is beautiful. I love the coaching staff and it is just a great program. They are just looking to be a great relationship there.
Prediction: No high-majors have jumped totally in yet with Peterson but that could change in July. If Stanford were to offer, the Cardinal may be tough to beat out with the skilled Illinois native.
Recruitment: Committed to Ohio State.
His day: While this past week was not a great one for Ohio State as they lost the commitment of 2018 Rivals150 forward Darius Bazley, Justin Ahrens played the part of an immediate contributor in Columbus. A sneaky athlete with a super confident 3-point stroke, Ahrens, a junior guard already committed to OSU, is shot maker out to 22-feet with deceptive toughness on the slash and score; he will be welcomed immediately a year from now at the Big Ten program.
Recruitment: Virginia, Stanford, Indiana, Purdue, Wisconsin, Xavier
His day: Jallow scored 22 first half points on Friday evening before then scoring five points to kick off his day on Saturday. However, his third outing of the weekend was tremendous and despite suffering an overtime defeat, the four star wing displayed an improving jump shot, ultimate versatility on the defensive end and a competitive side that should allow for minutes received right off the ball once he enters a college program.
Quote: "I am wide open. The Ohio State offer was the most recent and that just adds another. I am still just trying to pick up more offers. I am wide open."
Prediction: Virginia was the perceived leader and while things remain open for the talented swingman, Purdue's latest push could place the Boilermakers into the lead, at least for the time being, with the in-state prospect.
Recruitment: Committed to Michigan State.
His day: A strong bodied and hard playing power forward, Kithier started his day off on the slower end but because of his production towards the end, the Michigan State commit is still playing heading into Sunday morning. He was accurate with the pick and pop jumper out 20-feet, scored the ball in traffic and also rebounded his area, looking the part of a four year contributor in East Lansing.