Smith breaks out late at Curry camp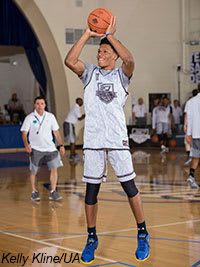 ALAMEDA, Calif. -- Dennis Smith elevated his play as the 2015 Stephen Curry Select Camp wrapped up Wednesday at St. Joseph Notre Dame High School. Th 2016 point guard played well the first two days, then shifted his game into overdrive.
Smith dominates final session
After two and a half days focused primarily on skill development, Wednesday's final session of camp was about competition. Nobody rose to the challenge quite like 2016's No. 4 player
Dennis Smith
.
The 6-foot-2 point guard from Fayetteville (N.C.) Trinity Christian flipped the switch and put on a show during the camp's one-on-one competition.
In a word, Smith was unguardable. He used crossover dribbles, hesitation moves and slick dribble combinations to get to the rim for dunks. He pulled up for short jumpers and floaters and when he was gassed from driving the ball, he stayed outside and buried one deep three after another. At one point, Smith had things going so well that he threw the ball between the legs of a defender before gathering and finishing with a big two-handed dunk.
During the finals, he was tested by
Michael Porter
and actually needed a comeback to win, but he was clearly the star of the session.
All throughout the week, Smith had the chance to pick Steph Curry's ear and one thing stuck out to him.
"Tempo is the biggest thing," said Smith. "How he picks his spots. He doesn't really rush at all and he thinks two plays ahead."
He's quite familiar with the local schools and the general consensus has been that he will stay close to home. However, Smith says that he would like to take official visits to Louisville, Kansas and California and he pointed out that Louisville's Terry Rozier was one of his favorite college players because how
Rick Pitino
allowed him to play.
Whether he stays home or heads out of North Carolina, fit and playing time are going to be very important in his decision.
"Whatever is the right fit for me," said Smith about picking a school. "I don't want to go in and play behind anybody. I want to come in and start doing my work the first year, so those are the two biggest things."
At this point, Smith isn't set on a timetable. He would prefer to commit in the early period, but he's willing to wait like many of 2015's top players did to see how situations shake out.
He'll also look at who else the schools he's interested in land, but ultimately it is about what works best for him and not somebody else.
"I want to be my own player," said Smith. "There's a lot of guys I would like to play with in college, but if they go somewhere that's not the best for me, then I can't go there."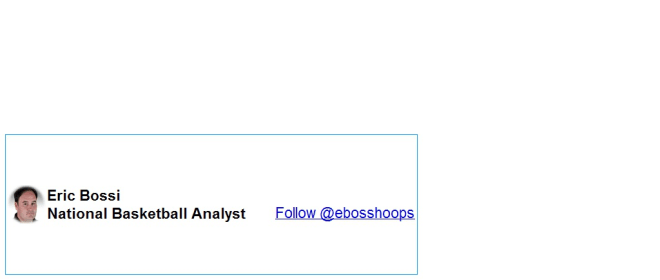 Click
Here
to view this Link.