Sleepers get their shot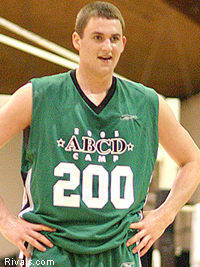 The summer shoe camps have always been reserved as a place for elite prospects and others who have earned a name in the recruiting world.
But, this year, a few of the coveted invites will be going out to players who aren't on the radar of any major college. Those sleepers will get a chance to play on the same courts as
O.J. Mayo
,
Kevin Love
and all the top prospects from the class of 2007 in front of hundreds of college coaches.
Reebok is organizing ten spotlight training camps across the country in attempt to offer more players a chance to play in its prestigious ABCD camp in Teaneck, N.J., on July 4-9.
The camps are held over the course of two days and begin on May 20 in Boston, Fort Wayne (Ind.), Orlando, Pittsburgh and Sacramento (Calif.). On June 3 another series of camps open in Atlanta, Jackson (Miss.), Houston, Riverside (Calif.) and Tacoma (Wash.). The final two will be in the Los Angeles and New York/New Jersey areas beginning June 10.
Players interested can register on www.nextfactors.com. They must be on track to graduate in the class of 2007, 2008 or 2009, have a recommendation from their high school coach and parental consent.
"This is about offering kids who want to play a real chance, no matter where they come from," said Chris Rivers, the vice president of Reebok Grassroot Basketball. "We have 30 spots left open for the ABCD camp and I'm hoping we can find five guys from these camps. This is a chance for the undiscovered to get discovered.
"This is not about business or making money. In fact, we are probably going to lose money. If it were about money we would call them tryouts and charge a lot of money."
At each camp, players will go through "skill assessment drills" under the supervision of at least two coaches. They will also play at least three games a day on teams with a maximum of ten players.
"Every year we have to turn down players who are going to high-major schools. There are only so many invites and I can only bring in guys who have impressive resumes," Rivers said. "We are really focusing on guys from the class of 2008 and 2009 and this is a chance for players from those classes to get discovered."
Return to Rivals.com in the coming weeks to find out who receives those invites to the ABCD camp.