Six schools in play for four-star center Obiagu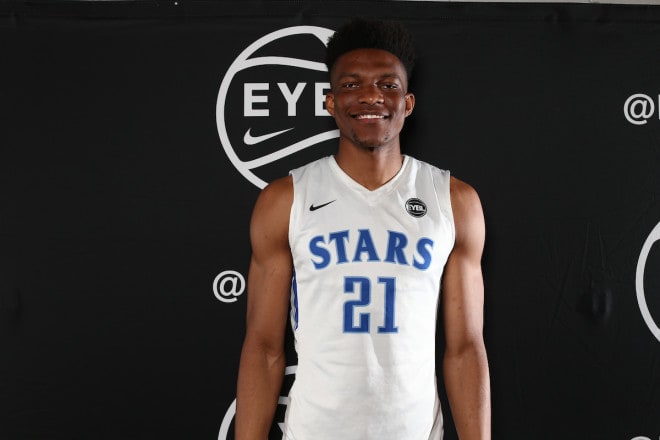 Ikey Obiagu earned the reputation over the past couple of years as being one of the top shot blockers in the entire 2017 class. College coaches are always looking for rim protectors, so it shouldn't come as a surprise that the Nigerian native has plenty of options all over the country.
Recently, he trimmed his list down to six schools. Baylor, Florida State, Georgia Tech, Long Beach State, Maryland and NC State remain in play for the four-star center.
IN HIS OWN WORDS
Obiagu broke down what stands out most about each program still on his list.
Baylor: "They have really, really good coaches and they have good history with their big men. They develop them well. I've been there for an unofficial visit and I loved the campus. I've met most of their players and I think that's a great situation for me. They play a zone, which would help me utilize my defensive abilities."
Florida State: "They have been recruiting me since the ninth grade. We've been going there every summer for summer league. I've probably been there the most times of any campus. I like the coaches there. It's not far from home and they have done a good job with big men like me."
Georgia Tech: "It's not far from home and they have great coaches. I've been on there campus four or five times and I know a lot of players on their team. I know if I go there I'll have a chance to play a lot right away and possibly start."
Long Beach State: "I don't know as much about them because I haven't been on their campus. I've known coach Myke Scholl for a long time because he's involved with African basketball."
Maryland: "They have a really good history with their bigs. Their coach came from Texas A&M where they developed Deandre Jordan and now they have Diamond Stone and some other bigs at Maryland, so I know they know what they are doing. I've been to their campus on two unofficial visits and one official and I love the campus. I met all their players, so I feel real comfortable there."
NC State: "They have a really good program. They've been involved with my recruitment for a while now. I haven't taken a visit there yet, so I don't know a ton about them. I just know they have a good program."
WHAT'S NEXT?
Obiagu's next official visit is set for Baylor next weekend. He's already taken official visits to Georgia Tech and Maryland, and will likely use the last two before making a decision in time to sign during the early signing period.
RIVALS' REACTION
Baylor has long been the school considered to be the front runner to land Obiagu. Many thought it would actually happen before the summer after he took an unofficial visit, but that clearly never happened. Florida State, Georgia Tech and Maryland have taken advantage of him staying open and now appear to be real threats to pry him away in the 2017 class.