Singleton selects ACC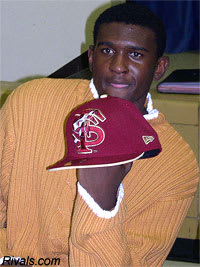 Singleton is headed to the ACC. The 6-foot-8 forward from Dunwoody, Ga., announced his decision to attend Florida State on Wednesday at a press conference at his school. He also signed his National Letter of Intent.
Singleton says the coaching staff at Florida State made the difference.
"It was a great experience being able to build a relationship with coach Hamilton and the people at Florida State. The staff there has been in the NBA and knows what it takes to get there, and that is one of my goals. I want to go as high as a possibly can."
Still, Singleton says he was undecided until just recently.
"I decided a couple of days ago. I went back and forth and sat down and wrote down the pros and cons for both and found what was best for me."
Singleton, the highest ranked decision maker (No. 33 overall in 2008) still uncommitted on the first day of the early signing period, is a major score for the Seminoles and could be reminiscent of former FSU star and Georgia native Al Thornton.
"Singleton has a similar game to Thornton in that they both have power forward size but a lot of small forward in their game. Singleton is the better long range shooter but he doesn't attack the basket off the dribble with the same explosiveness that Thornton does," Meyer said. "If Singleton continues to improve his game and sharpens his mental focus on the court, he has a chance to be the same caliber pro prospect that Thorton was at FSU."
"Singleton will fit in well with FSU's up and down style. I imagine they will use him both as a wing player and inside-outside four man. I really like him at the four because he creates such mismatch problems," Meyer said. "His range stretches the defense and puts a lot of pressure on the four man defending him. Singleton also has a quickness mismatch on most fours and still has the post up game to score on them inside. On the wing, he loses a lot of his perimeter advantages when he is guarded by the opposing three man."
According to Rivals.com's Jerry Meyer, Florida State will make the move from No. 14 on the team rankings to 10 overall.