Simmons rises up at Adidas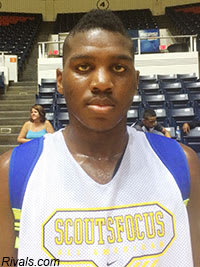 ATLANTA -- There are three quality events in Atlanta during the first July evaluation period between the Adidas Uprising, the Elite 32 and the Best of the South. Rivals.com split time between all three events on Thursday.
Simmons bounces back
After getting off to a slow start to the first July recruiting period on Wednesday night, the Atlanta Celtics bounced back Thursday with a close win over Team Loaded Virginia in the morning and followed that up with a convincing 79-61 victory over a very talented Compton Magic team.
A big part of the struggles for the Celtics on Wednesday was due to
Kobi Simmons
not playing up to his usual ability. That wasn't a problem against the Compton Magic. The five-star point guard pumped in 16 points and dished out six assists. Instead of settling for jumpers, he was constantly getting into the paint and making plays for himself and others. He also got out in transition a few times for some crowd-pleasing dunks. Simmons' backcourt-mate
Joshua Langford
once again showed why he's a five-star prospect and one of the best guards in the class. He chipped in with an efficient 17 points.
Four-star center
James Banks
also had a rough first day, but he too bounced back with one of his better games he's played. He recorded a double-double with 10 points and 10 rebounds and also rejected three shots.
Anfernee McLemore
, like Banks, posted a double-double with the exact same stat line of 10 points and 10 rebounds. His stock is on the rise as Celtics coach Horace Neysmith says offers have rolled in from Oklahoma State, Ole Miss and Rice recently.
The Celtics advanced to play in the championship Friday night.
Alkins sparks Rens late
The NY Rens punched their ticket to the championship game to face the Celtics after a late surge by
Rawle Alkins
helped secure a victory over Indiana Elite.
From nearly start to finish, the Rens controlled the game, but could never quite put away Indiana Elite. With just a four-point lead with only about three minutes left in regulation, Alkins sparked his own 8-0 run with two break-away dunks and two assists. The 15th ranked prospect in the 2016 Rivals150 has a big, strong body that he uses to punish defenders in the paint. He's a more explosive athlete than he appears with such a big body, but he can rise in a hurry. The five-star prospect had a number of top high-major coaches sitting courtside including,
John Calipari
and
Tom Crean
.
Despite taking a tough loss,
Virginia
commit
Kyle Guy
once again played very well for Indiana Elite. He's not the type of player that
Tony Bennett
needs to worry about losing early to the NBA Draft due to his lack of height for a shooting guard, but he's going to make an impact early in Charlottesville and will have a very productive career.
Four-star guard
Quentin Goodin
didn't have a great first night in Atlanta, but he was feeling it on Thursday night. He dropped an impressive 28 points and did everything he could possibly do to keep Indiana Elite alive late, but it wasn't enough.
Big day for Brown
In the updated rankings for the Class of 2017, Nike South Beach center
Zach Brown
sits at No. 12 overall. It doesn't take long to see why.
A legitimate 7-foot-1, Brown is an impact player on both ends of the court. Offensively, he got off to a slow start against Southeast Elite, but he became the focal point of South Beach's offense in the second half and routinely finished with emphatic dunks. Usually young post players have the bad habit of bringing the ball down low when they catch it, but Brown is very fundamentally sound and always keeps the ball high and away from defenders. On the other end of the court, just his length alone causes problems. When you factor in that he's quick off his feet and agile, you have an elite defensive prospect.
Only heading to his junior year, Brown says he's taking the recruiting process slow and letting his parents talk to the college coaches. He says Kentucky,
Miami
,
UCLA
,
N.C. State
and
Syracuse
have been in contact. He plans to dive into the recruiting process a little deeper once his junior year starts.