Several standouts during NBPA first session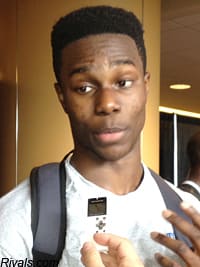 CHARLOTTESVILLE, Va. -- The 2012 NBPA Top 100 Camp got off to a quick start on Thursday morning with many of the nation's top players hitting the floor for the first time. Here's a look at some of the standouts from Thursday's first session.

He's got his own feature article from the first session, but it bears repeating that
Anthony Barber
was the best player during Thursday's first session. He blew by defenders like they were in cement shoes, made the right passes and was dialed in with his pullup jumper.

Everybody knows that
D'Angelo Russell
can score the ball. So it wasn't surprising to see the 6-foot-3 southpaw, who ranks No. 16 in the class of 2014, getting buckets. However, it was a surprise to see him running the point and looking quite comfortable doing so. Russell dished out eight assists to go along with his 13 points and listed
Ohio State
,
Missouri
,
Louisville
,
Indiana
,
Cincinnati
and
Xavier
.

Big and strong post player
Dominic Woodson
wasn't playing on the court we were focusing on, but every time we looked over, the 6-foot-9 power broker was burying another defender under the hoop for a conversion. Actually, he wasn't just burying any defender, he was burying class of 2014 five-star Cliff Alexander. Woodson was good for a session-high 22 points and easily played up to his status as a top-30 player in the class of 2013.

While Woodson got the better of
Cliff Alexander
during the first round of play, it isn't as if the five-star from Chicago was bad. In fact, he was quite good using his length, power and activity to finish around the rim and on the break. It's impossible not to like his intensity.

His Mavs team was struggling at times, but
Semi Ojeleye
of Ottawa, Kan., was solid on Thursday morning. The powerfully built, 6-foot-6 wing knocked down a couple of 3-pointers, converted some tough hoops at the rim and was good on the glass. Ojeleye wouldn't call
Duke
his leader, but he did indicate that he would likely return for an official and had plenty of praise for his early June visit to Durham.

He didn't go crazy by any means, but as his first game wore on
Kuran Iverson
started to show some signs of life. The 6-foot-8 combo forward from Hartford, Conn., is at his best working along either baseline, where he's a slick driver and creative finisher.

Arkansas
commitment
Bobby Portis
has all but guaranteed himself a rise to five-star status. The big man plays with intensity and skill and has a versatile offensive game that he supplements with doses of rebounding and shot-blocking. He got off to a terrific start on Thursday.

There were some tough finishes that rattled out on him, but
Jarell Martin
was impressive on Thursday morning. The 6-foot-9 power forward played with passion and intensity and was a blur running the court. Martin is one of the most improved players in the class of 2013 and is making a serious run at five-star status.

All we can do is imagine how good No. 2 player in the class of 2014
Noah Vonleh
would have been had his team actually given him touches. The 6-foot-8 combination forward rarely does anything in a rush, has the skill to hit jumpers to the three point line and is a terrific rebounder. This is the kind of kid you want to play with if you are a player.

Given an open look for a jumper,
Bronson Koenig
is very dangerous. The
Wisconsin
commit is also an outstanding transition passer and has gotten stronger in the past year. He handles the ball fine, but must continue to work on getting past good defenders in one-on-one situations.

If we are going to go with a knee-jerk reaction, we would say that we like
Tyler Roberson
more as a combo forward than his current listing as a small forward. While still a bit on the lean side, Roberson has added strength in the last year, is still a fine athlete and had the 15-17-foot jumper working on Thursday morning.

We plugged
John Egbunu
into the latest update of the class of 2013 rankings and it looks like the South Florida commitment is there to stay. His seven-foot listing looks to be very generous, but he's a long armed athlete and animalistic offensive rebounder. Egbunu plays with energy and ferocity around the rim and has great physical tools.

He wasn't on the court we were focusing on, but
Kevon Looney
continued what has been a strong spring/summer. The 6-foot-7 forward from Milwaukee (Wisc.) Hamilton has solidified his five-star status with his play over the past few months.

Click
Here
to view this Link.
[rl]