Selby cuts it to six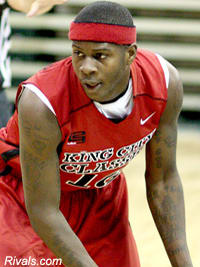 Elite point guard
Josh Selby
is taking his time through the recruiting process the second go around, but on Sunday night he cut his school list down to six schools.
Selby's mother Maeshon Witherspoon has informed Rivals.com that her son is down to Baylor, Indiana, Kansas, Kentucky, Miami and Syracuse.
Selby, a 6-foot-2, 183-pound point guard from Baltimore Lake Clifton High School has conducted in-home visits with these schools and others in September. At this point no official visits have been scheduled.
Witherspoon has indicated that Selby will likely be a late signee as well.
Selby, who was at one time committed to Tennessee, is the No. 4 ranked prospect in the Rivals150.
Josh Selby scouting report:
A combo guard, Selby is a dynamic playmaker who specializes in knocking down tough shots. At times he can get out of control and force shots, but there is no denying his ability to create something out of nothing. Although he has a scorers mentality, Selby also has the ability to creative scoring opportunities for teammates and is a strong on the ball defender.