SEC school lands first 2008 recruit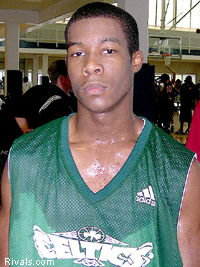 The Georgia Bulldogs jumped in line first and snagged up one of the top point guards in the Southeast's 2008 class when
Dustin Ware
verbally committed to the SEC program on Friday.
The 5-foot-11 floor general from North Cobb Christian School in Kennesaw, Ga., announced his commitment to Georgia at his school's season tip off activities on Friday night.
"It was just the way the players love their team and how the coaches interact with the players," Ware said of why he picked the home state Bulldogs. "The way they treated me made me feel like the most important person in the world.
"The coaches gave me their top ten reasons why I'd be successful at Georgia that really stuck with me," Ware said. "They said they see me as a guy that can play in the NBA and they see me as a guy that can help serve in their community and coach (Dennis) Felton said he sees me as the face of UGA."
Talk about a big time recruiting pitch. How did that go over for the 16-year-old?
"That blew me away. He laid it out right there and that is all before my junior season," Ware said.
North Cobb Christian head coach Walter Jordan said the Bulldogs are getting a poised point guard
"I've known him since he was an eighth grader and I noticed the same thing about him then as I do now and that is he makes everyone around him better," Jordan said. "He raises guys up to the next level and you'll never out work him or beat his passion for the game.
"He is a high character kid that is a leader. I call him a magnet. Guys just want to play with him because he understands the game and gets the most out of his abilities."
Outside of being a tough competitor and tough as nails player in clutch time, Ware, a pass-first point guard, is a tremendous leader, says Jordan.
"Coach (Desmond) Oliver and coach Felton said they are looking for a leader and a guy that they can hang their hat on and that goes beyond the game. That goes into someone that is academically sound and someone that can get their degree in four years," Jordan said. "Dustin can be the right arm to the coach on and off the floor. I think that will help them in the long term and with their long term goals."
Ware averaged 21 points, six assists, four assists and four rebounds as a sophomore and he'll crack the 1,000 point mark before the Christmas break. He is the first player to commit to Georgia in the class of 2008.