Saturday in the desert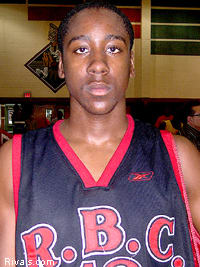 In a hard fought 68-66 win over Total Package Red, Harden led all scorers with 28 points.
Harden has offers from Washington, Washington State, Arizona and USC. Harden is also interested in Texas, Arizona State and Pittsburgh.
Although his release is a little slow, Babbitt has been continuously draining outside shots with his smooth stroke and taking defenders off the dribble from the perimeter. Looking every bit like a big time small forward, Babbitt listed Texas, Duke, Washington (offer), UCLA, Arizona, Georgetown, Gonzaga, Syracuse (offer) and Nevada (offer) as schools of interest.
A long 6-foot-9 with his long arms and high shoulders, Brackins is playing with a nice blend of finesse on the perimeter and power around the basket. He has a great deal of upside and has been one of the more impressive prospects at the event.
A physical guard, who hunts down the ball and plays a complete game, Holiday has been a joy to scout during this event.
After the win over SoCal, Grim told reporters that he plans to officially commit to Utah on Wednesday.
Hobson is presently considering Arizona, UCLA, USC, Texas, Texas A&M, Florida and Georgetown.
Another player scoring big this weekend has been Justin Dehm of the Illinois Warriors. Dehm scored 23 and 22 points in games Saturday.