Saturday at the MDC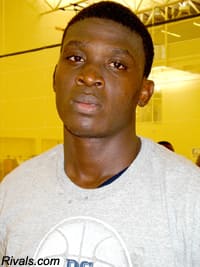 Although his depleted DC Blue Devils squad ended up on the short end against the Birmingham Storm, Tarou put up an impressive 22 points and 12 rebounds in a head-to-head match up with Cousins. Having only played basketball for three years and only being in the States for four months, Tarou has an impressive skill set to match his imposing build. Not only does the hard-working power forward take the ball up strong through contact around the basket and rebound in a crowd, he can also score the ball off face up drives to the basket.
After seeing him for the first time earlier this springs, Rivals.com placed Tarou at No. 43 in the Rivals150. After watching him again on Saturday, the five-star range might be a more appropriate place for Tarou.
His recruitment just began last month but already Memphis, Georgetown, Pittsburgh, Florida State and New Mexico State have extended offers according to Blue Devils coach Vaughn Jones.
At only 5-foot-10, but a stocky 175-pounds, Bright was a dominating force on the court. He nailed three-pointers off the catch and the dribble while also creating countless scoring opportunities for his teammates.
Looking every bit like a high major prospect on Saturday, Bright is currently hearing from California, Stanford and Washington.
Under the radar at this point, Thomas is hearing from Xavier and Fordham. Kansas has just started showing some interest and expect more schools to follow suit.
"I love Coach Wright," said Bell. "He's a down to earth guy and is a players' coach. The program has a family atmosphere, and I also have a lot of family in the area."
Bell is also considering Miami (offer), Florida and Clemson (offer).