Rumble in the Bronx: Day Two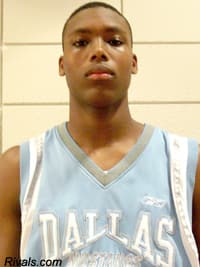 BRONX, NY
- It was a long day at Fordham University as the Rumble in the Bronx kicked into high gear. The impressive field was whittled down as tournament play began. Still in bracket play there was some interesting action, and one player who stood out was
Devonta Abron
.
Abron shines for the Mustangs
Tony Johnson brought up his crew of Dallas Mustangs from Texas for the event, and while five-star team leader
LeBryan Nash
didn't make the trip, some of his other stars did. Abron in particular was able to pick up the slack for Nash and helped the Mustangs roll.
Abron might not have the prototypical power forward size, but he was very effective on Saturday. He used his supreme athleticism to throw down the highlight of the day with a dunk in traffic over two defenders. On the play he was slightly injured, but still it was an impressive throw down that showed how much of a weapon he can be with his explosion around the rim.
To go along with that, Abron was a beast down low. He absolutely ate up the glass by rebounding everything that he could get his hands on, and on top of that he showed an aptitude to score with his back to the basket. With Abron showing a solid feel for the game to go along with his athleticism he showed that he has improved and is a factor going forward.
Along with Abron,
Keaton Miles
,
Ben Dillard
, and
Jherrod Stiggers
all played well. Miles is a dynamic combo forward who has long arms and a lot of bounce. While he didn't have his best scoring game, Miles was able to rebound the ball and impact things down low with his ability to block shots.
Primarily Dillard and Stiggers are shooters, and they proved that during the game. Stiggers has good size at 6-foot-4, and has a quick release on his jumper. Along with him being able to get his shot off quickly, more importantly he gets it off accurately. Stiggers was absolutely on fire from three and the Rivals 150 prospect showed that he could be one of the high-level shooters in the class.
Dillard is also someone who had his shot working, though he did more than just gun for deep. After hitting a few threes early in the first half, Dillard decided to use his two bounce game going to the rim. While that isn't his bread and butter, Dillard did get to the rim a time or two. Overall Dillard simply knows how to play, and while not an elite athlete with big time quickness, he simply knows how to be effective given his skill set.
Other Notable Performances
Give credit to Boston College with finding a sleeper big man in their own backyard. 2011 big man
Dennis Clifford
reported that he recently committed to the Eagles, and in an upset win over Team Final, Clifford was a force down low. The 6-foot-10 big man runs the floor extremely well, has good hands, and has a decent touch out to the mid-range. Clifford does need to add strength, but in a class not loaded with bigs, he definitely stands out. Coming from Milton Academy, Clifford had a good junior season and he is following it up with a solid AAU campaign for the Bay State Magic.
New York City guard
Mike Taylor
has been getting a lot of run lately for the way he has played. There is no doubt that he can score, and Taylor proved it. He is a high level shooter who thrives on taking and making big shots. Still he needs to get better at getting by his man or setting up his teammates if he doesn't want to be categorized as a specialist at a high-major, but Taylor no doubt can fill it up.
For
Tyrone Johnson
and his teammates it was a rough game in terms of the final result, but still the stocky floor general showed why his potential is so limitless. For a kid who has never focused fully on basketball, Johnson has a unique feel for the game. His passing is high level, and add in that he has a college ready body and excellent athleticism, and Johnson showed why so many schools are after him. He has the tools to be an extremely high level defender, and times showed that during the game. Johnson's growth area is his jump shot, but it does look to be improving.
It hasn't been the best summer to date for
Angel Nunez
, but the combo forward showed why he was so touted as a younger prospect. Nunez has a stroke that is pure from deep, and that has never been in question, but the other parts of his game have been. Saturday Nunez showed a desire to finish inside a few times, and when he did that it kick started his rebounding. Still Nunez needs to play hard consistently, and absolutely has to improve his footwork, but when he plays hard and does more than just stand in the corner and shoot, he proved to be tough to handle with his length and athleticism.
Running the show for the Gauchos was
Derrick Wilson
. Wilson is an absolute bull with the ball, and constantly is in attack mode. He needs to put the jump shot in his back pocket right now and simply focus on getting to the rim, but other than the perimeter jumper everything else looked good. Wilson likes to get his teammates involved, rebounds well for guards, and at times can be tenacious when defending the ball.
The strides that Blaise Mbougorba has made in the past two years are impressive. The 6-foot-10 prospect from St. Benedict's doesn't get much love on a national scale, but he does have a world of potential. At 6-foot-10 with long arms and a lot of athleticism, Mbougorba is a difference maker inside. His hands need some work, and he is raw on the offensive end, but that is coming with more reps. He is a no-brianer at the mid-level, and possibly an improvement on the offensive end could throw him even higher than that.
Elijah Carter
continues his assault to land at the high-major level with his play on the circuit. The combo guard who will prep in 2010 and become a member of the 2011 class, is a big time scorer. He is quick with the dribble, and that allows him to create space and get his jumper off. Carter has a hair trigger, and is a good athlete which makes him very tough to guard. He had it working at times on Saturday and it showed.
Give credit to New England Playaz big man
Kaleb Tarczewski
, he struggled his last time out at the Tournament of Champions, but picked up his play in The Big Apple. Tarczewski used his size to grab rebounds, and also battled around the rim where he finished well. Beyond that he ran the floor, and overall looked much better than in his last viewing.
Next to Traczewski was
Markus Kennedy
. The Villanova bound big man looks a lot bigger than the last time he was seen, and he needs to work on getting back into playing shape, but still the hands and scoring ability around the rim are there. Kennedy was very effective on the block, and used his wide body to carve space and give him a chance to score down low.
Johnathan Holton is a face up power forward worth watching in from the Sunshine State. Holton doesn't have much of a mid-range game, but he can really shoot it from three, and also showed an ability to finish above the rim. At 6-foot-8 he has long arms and good size, and if he can improve facing the rim off the dribble he stock could absolutely explode.
An emerging big man in the 2011 class is Adrian Diaz. He is 6-foot-10 with long arms and he really runs the floor well. Diaz doesn't have much of a game outside of five feet, but he finishes above the rim with athleticism, and runs the floor well putting himself in position to make plays. Also Diaz has solid hands. He needs to improve his strength, and be more consistent with his production, but his size and athleticism make him a major prospect.
Shooter alert is out for Austin Keel. Keel can absolutely shoot it from deep. To be fair that is all he showed, but it is a good skill to have. Keel isn't much outside of a catch and shoot guy, and is a liability on defense, but if his feet are set and gets a clean look, just book it because it is going to be three points.
School Lists
Ben Dillard
is the son of Iowa staffer Sherman Dillard, but he says that isn't a big deal in his recruitment. Dillard is hearing from Wichita State, SMU, Texas A&M, Iowa, Marquette, and Kansas State.
Keaton Miles
listed offers from Houston, Arkansas, Baylor, and Texas A&M. Also he is hearing from West Virginia, Cal, Florida, and Wake Forest.
Jherrod Stiggers
says he is a heavy lean to Houston, and is also hearing from North Texas, Wichita State, and Iowa.
Jonathan Holton
has interest from Rice, Tennessee, Indiana, Minnesota, East Carolina, Miami, and Florida.
Adrian Diaz is on the radar of Miami, Indiana, Florida State, Texas A&M, North Florida, and Florida.
Austin Keel is hearing from Texas Tech, Minnesota, Rice, ECU, Iowa, Lafayette, and Richmond.