Rowan Brumbaugh is ready to get back on the court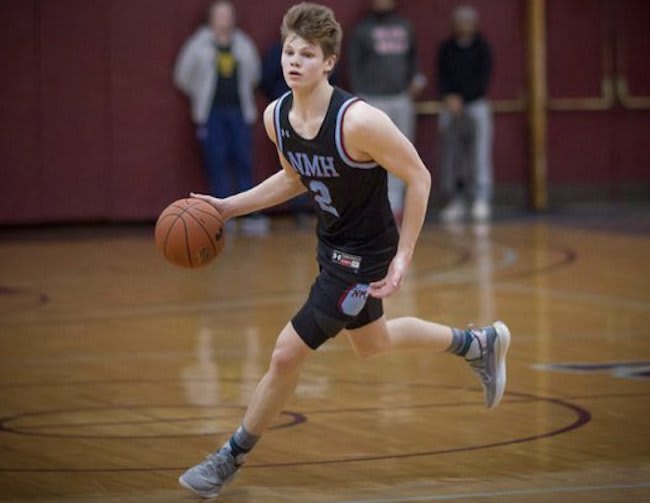 There is a chance that Rowan Brumbaugh becomes one of the hottest point guard names in the 2022 class this summer, playing with the Big Shots Elite Prospect U team. The point guard out of Northfield Mount Herman has an infectious quality to his game.
"I'm kind of like a John Stockton, I am going to be in your face all game, picking up full court playing as hard as possible, but I want to get my teammates involved first and foremost," Brumbaugh said.
While Northfield Mount Herman was not able to have a season this year due to a COVID shutdown, Brumbaugh used that time to his advantage, and college programs took note of that as well.
"We didn't get to play this season, so I looked at it as an opportunity to really get into the weight room. So, the biggest improvements in my game over these past six to eight months has been my strength and athleticism." Brumbaugh said, "I would definitely say Wisconsin is hitting me pretty hard, along with Princeton, Georgetown and Virginia Tech I am hearing from the most."
IN HIS OWN WORDS
Wisconsin: "The head coach, coach Greg Gard, is actually the lead recruiter for them. He just sees me as being one of the next great Wisconsin point guards they have always had. He lets me know how much I can help his team and help get them as far as possible."
Georgetown: "Head coach Patrick Ewing checks in with me a lot. They are a really good school, academically, and they have always had great guard play. They are close to home now too, so that is good too."
Princeton: "You cannot beat what they provide academically. And I would go in right away with a bit role with them, so that is a big plus there."
Virginia Tech: "I am really close with assistant coach Chester Frazier and head coach Mike Young checks in some, too. I really like their style of play; I think I could fit with that. And they just text or call to check in a lot."
WHAT'S NEXT?
"Northwestern, Minnesota, San Diego State have all been on me and I think they may be close once they see me this summer. Since I played this weekend, Iowa, Illinois and Wake Forest have been in contact." Brumbaugh continued, "I definitely want to commit this summer, so within the next couple of months"