Rosters set for Elite 24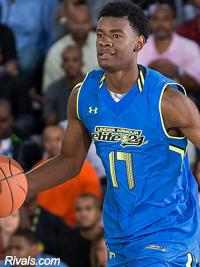 With just under a week to go until the game takes place, Under Armour has set the rosters for the tenth anniversary of their popular Elite 24 game.
The outdoor game takes place on Saturday the 22nd of August in Brooklyn, NY at Pier Two with the Manhattan skyline serving as a backdrop and will be televised by ESPN.
As usual, the game is loaded with talent. Headlining the rosters are the No. 1 players from both the classes of 2016 and 2017 as
In addition to the game, there will be a three-point shooting and dunk contest held at the game location on Friday night.