Robinson-Earl a five-star attraction in 2019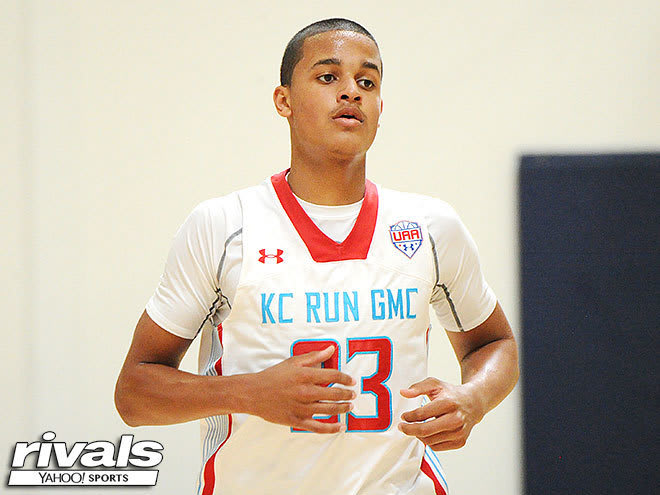 After looking like one of the best prospects in attendance, regardless of class, at the first stop of the Under Armour Association in New York, five-star power forward Jeremiah Robinson-Earl is looking to build on his success.

The 6-foot-8, 220-pound power forward does it all on both ends of the court. He's a very gifted all-around scorer on offense, but he's also a very good passer from the high post. Defensively, he's a great rim protector and dominates on the glass.
Early in the process, he's hauled in offers from programs like Kansas, Creighton, Oklahoma, Iowa, Wake Forest, Kansas State and Missouri with interest coming in from North Carolina and Notre Dame.
IN HIS OWN WORDS
Robinson-Earl has been a regular visitor to Kansas and saw North Carolina during the Fall. Earlier this week, he stopped by Missouri to check in on the Tigers.

Kansas: "It's one of the top programs in the country. Everybody wants to play there. It's a great school."
Missouri: "I'm good friends with Michael Porter and Jontay Porter. Jontay played on my middle school AAU team. I'm close with that family, so it's good that they are there."
North Carolina: "They are really interested. Roy Williams and C.B. McGrath came to my high school games and I took a visit down there. I liked it."
RIVALS REACTION
Robinson-Earl was recently moved to five-star status by Rivals.com and so far it looks like the right call as the 2019 forward looks like a potential star on the college level.
He says that he's completely open but any time a kid grows up so close to Lawrence you have to watch out for the Jayhawks. Robinson-Earl's father Lester Earl (a McDonald's All-American as a high schooler himself) also played at Kansas -- where he was coached by Roy Williams -- but that shouldn't be a huge factor.
Proximity to Lawrence and familiarity with the Kansas program may scare off some, but Robinson-Earl is taking legitimate looks. An offer from UNC could make things interesting, Wake Forest has pushed hard and previous relationships could help the new Missouri staff out.