Roberson not ready to pick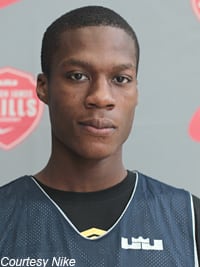 The 6-foot-8 forward from Roselle (N.J.) Catholic is the No. 30 player in the country and each time he feels like he might be closer to finding his next stop, he takes another visit and the decision gets a little harder.
"After you visit some schools, you feel like you could go to that school," Roberson said. "Then you visit another and you feel like you could go to that one. So you want to get it over with, but you don't want to make the decision too fast."
"It went well and I had a lot of fun," he said. "I got to talk to the coaches and players a lot. The players told me about the coaches and how they are really good and the program, how big it is to play for Kansas. The coaches told me more about my role with the team and what they expected of me."
What the Kansas and SMU visits have shown Roberson, though, is that distance isn't a factor.
"I don't mind going away from home," Roberson told Rivals.com. "When I do visits to these schools that are far like Kansas and SMU, at first I didn't know what it would be like or if it would be hard. But then when I visited them, the distance and trip wasn't as hard as I thought."
One of the most complete offensive forwards in the country, Roberson has had coaches tell him they see him as a small and power forward.
Right now he thinks he's somewhere in between, although he does prefer the wing a little. He also knows he's still got work to do.
"I think I'm like a combo forward," he said. "I like to really play more of a small forward and then power forward. I think I do both well. I think I need to work on my strength but I've been getting stronger since the summer. I think I need to keep working on everything because my versatility is really important.
"My mid-range game is definitely a strength. I think I play with a lot of energy, a lot more than people realize. I play hard and run the floor and do a lot of the little things that people don't really notice."
While the decision hasn't been quite as easy as Roberson -- who isn't tipping his hand at all -- had thought it might be, he is still planning to make an early decision.
But whether he makes a quick choice or just trims his list remains to be seen.
"Depending on how these last two visits go, I could decide really soon after them if I'm sure," said Roberson. "If I'm not sure I'll cut it down to three and maybe wait a little later."

[rl]