Rivers retains top spot in Rivals150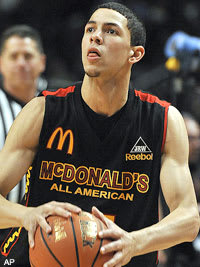 With one of the best bursts to the basket in his class, he can finish with a variety of shots inside the heart of the defense. Outside the arc, Rivers creates separation with patented jab-step, hop-back and hesitation moves.
The ease with which he scores and the evolution of his game over the last few years bode well for Rivers' future. What he excels at will translate to the highest levels and he possesses the tools and work ethic to improve in the areas he doesn't yet excel in. His offense will always be ahead of his defense, but we expect the separation between the two to significantly shrink in the coming years.
Like Rivers, Davis also knows how to score. He is a threat to score in the paint and can do damage from the perimeter as well. Defensively, he has the timing and length of a high level shot blocker.
Davis' best years are ahead of him and how much muscle mass he adds to his frame will have a lot to do with how high a level he can take his game.
He might not be a primary scorer at the next levels, but Gilchrist is capable scoring through different methods. He is a strong finisher in transition, a dangerous offensive rebounder, a capable midrange scorer and an improving outside shooter.
Gilchrist does his best work in traffic and can be counted upon to make the tough play.
Along with his scoring, Beal possesses the other qualities of a high level shooting guard. He is a solid ball handler, a strong defender and he can rebound.
[rl]