Rivals150: What if theyd chosen football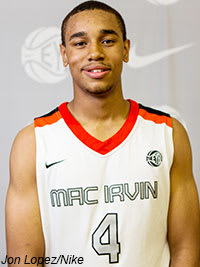 Wednesday is one of the most important days in the college football world. On
National Signing Day, Rivals.com takes our annual look at the current Rivals150
for basketball to say what if these guys went down a different path and chose
there are certainly some players who we feel could have easily been stars on the
gridiron.
School: Ft. Wayne (Ind) Homestead, Undecided
The Buzz: We've pretty much had to hide the 6-foot-8, 260
pounder from national football analyst Mike Farrell over the past few years. If
Farrell saw the No. 16 player in the country he'd probably want to make him a
five-star prospect and convert him to a left tackle. Swanigan has great hands,
nimble feet and an ideal frame for putting weight on. The undecided senior is up
in terms of basketball players who look like they could be very high level
football players.
Preposterous NFL Comparison: Lincoln Kennedy
to use Bacon on the Seminole football team if the high scoring wing wanted to
try his hand at football. A big time athlete who plays with power, Bacon bears a
physical resemblance to many of today's jumbo pass catchers No. 22 player in
2015 could be a high-end receiver.
Preposterous NFL Comparison: Kelvin Benjamin
The Buzz: Probably the fastest player from one end to another
in the class of 2015. Who's to say that Evans couldn't be a fit as an all
purpose running back in Stillwater? The No. 27 ranked player in his class, Evans
is just as shifty as he is fast and his great hands would allow him to be a
great receiver out of the backfield.
Preposterous NFL Comparison: Brian Westbrook
School: Winston-Salem (N.C.) Elite Prep, Undecided
The Buzz: If there's a dangerous kick returner type in the high
school basketball ranks it has to be the nation's No. 54 player. A jet quick
floor general who hails from Milwaukee, Jefferson is a master of the shake and
bake who changes directions quickly while immediately returning to top speed.
There's no question he could be an electrifying kick returner.
Preposterous NFL Comparison: Dante Hall
The Buzz: As wide receivers have gotten bigger, so have
defensive backs. Signed to UCLA, Holiday ranks No. 58 nationally and is an
aggressive and physical combo guard who could project as an outstanding cover
corner. He has strong hands, great hip movement and is a tenacious on the ball
defender who would like love being matched up on his own Island.
Preposterous NFL Comparison: Aqib Talib
No. 61 player in the country is an impressive physical specimen. He's strong,
quick and doesn't lack at all for toughness. Most of all he has strong hands
that allow him to grab pretty much any ball he gets a fingertip on.
Preposterous NFL Comparison: Jared Cook
The Buzz: One of the nation's flashiest players, Sanders ranks
No. 74 in the class of 2015 thanks in large part to his extreme athleticism.
Because of his vision, burst and toughness he screams potential dual threat
quarterback or even wide receiver.
Preposterous NFL Comparison: Michael Vick
The Buzz: It's almost a shame that the No. 104 player in 2015
doesn't play football. If anybody in the class plays with a football mentality
it is Morrow and the way he chases down rebounds and loose balls would likely
translate to chasing down quarterbacks as a defensive end. He's one of those
long, lean and surprisingly strong guys.
Preposterous NFL Comparison: Chandler Jones
School: Charlotte (N.C.) Northside Christian, Florida Gulf Coast
The Buzz: One of the freakiest and most powerful athletes in
the class of 2015, the Florida Gulf Coast-bound wing could likely play any
number of positions on the football field. His athleticism and size could make
him a problem as a big receiver or he could bulk up to be a tight end or an
outside linebacker. A natural athlete who thrives in open space, he could be a
super coverage linebacker.
Preposterous NFL Comparison: K.J. Wright
The Buzz: Last but certainly not least on the list is Hudson. A
dynamic, on-the-ball defender who is already built like a football player,
Hudson could easily find success as a safety because of his ability to move and
willingness to play with physicality would serve him well in the defensive
backfield.
Preposterous NFL Comparison: Lawyer Milloy