Rivals150 point guards commit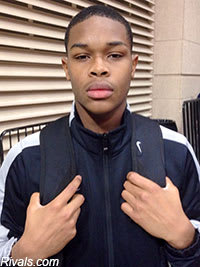 The No. 84 player in the class of 2015, Poyser is a four-star prospect from the Athlete's Institute in Canada who came on strong during the latter part of the 2014 summer.
Standing 6-foot-3, Poyser is a tall and slender point guard who specializes in attacking off the dribble and getting into the lane. He is a sleek scorer at the rim, gets to the free throw line and is dangerous enough to demand respect from deep.
Playing with an always deep CIA Bounce team on Nike's EYBL circuit during the summer, Poyser was used as more of a setup man because it was the best fit for his team. While he was very good in that role, it was performances at Adidas Nations and the Nike Global Challenged where Poyser showed what he could do in a more featured role that cemented him as a high-major prospect.
So far, Poyser is the first player to commit to UNLV and assistant coach Todd Simon was huge in his recruitment.
Before taking his current position at UNLV, Simon was head coach at powerful Findlay Prep in Las Vegas where Poyser played before making a transfer to play at the Athlete's Institute closer to his home in Canada.
A bit to the North, Leon Rice and his staff continue to do a bang-up job on the recruiting trail.
For the second year in a row the Broncos have landed a Rivals150 player -- they landed four-star wing Chandler Hutchison from the class of 2014 -- and there's no doubt that Austin can be an instant impact player.
Ranked No. 142 overall in the class of 2015, Austin is a tough and quick 5-foot-11 product of Oakland (Calif.) Bishop O'Dowd who teams with five-star big man Ivan Rabb in high school and specializes in dribble penetration and aggressive on-the-ball defense.
Because of his speed, Austin can push tempo and he is most comfortable in an up-and-down game. He is plenty bouncy and the alpha mentality he has when on the floor keeps him from having any fear when he attacks the lane and either finishes or makes plays for others at the rim.
The second perimeter player to pick Boise State in the class of 2015, Austin joins fellow three-star Malek Harwell -- a high scoring combo guard from Idaho -- to form a backcourt with potential to cause major damage in the Mountain West as they add strength and experience.